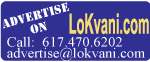 Sponsors
Dental/Medical
Billerica Medical
Flawless Dental
Education
Akshaya Patra
Chinmaya Mission
CRY America
Learnquest
MATH MASTER, K-12 Tutoring Center
Maharishi Academy of Total Knowledge
Peabody Essex Museum
Shishu Bharati
Entertainment
Sounds of India
Finance
Darshana Patel, CPA
Dinesh Tanna
Leader Bank/Mortgage
Nila Rakhit
Pradeep K. Audho
Satya Mitra, EA, ATA, CFP
Sangita Joshi
Lawyers
Monique Kornfeld, Esq.
Neil K. Sherring, Esq.
Richard Costa, Esq.
Shivani Shah, Esq.
Tadmor & Tadmor, LLP
Trupti Patel, Esq.
Vakili Karimi, Esq.
Mortgage
Accurate Mortgage
Mortgage Partners
Shrenik K. Shah
Printing/Photography
Ratan Singhvi
Printing and Graphics Services
Timeless Lens Photography
Realtors
Ananth Ram
Laroia Realty
Raminder Bhatia
SmartMoves
WestOfBoston
Swati Mukherji
Restaurants
Bollywood Grill
Mysore Veggie
Services
Alankar
B. D. Nayak, Architect
epuja
Minuteman Group
Moksha Spa
S4 Inc.
Shalini's Salon & Spa
Shopping
India Palace
Kay Pee Jewelers
Raj Jewelers
Travels
Madan Travel
Lokvani Talks To Kalpana Chatterjee, Moksha Spa

(This article is sponsored by Attorney Trupti Patel)
As you enter into Moksha Spa and Wellness center in Methuen owned by Kalpana Chatterjee, you have the distinct feeling that you are entering into what promises to be a sublime experience. [more]
In Conversation With Dr. Joram Begi And Vikram Swami

(This article is sponsored by Attorney Rachel C. Tadmor)
"Arunachal Pradesh has enough hydropower to provide to accommodate most of India's energy needs," says Dr. Joram Begi, a first generational learner from Arunachal Pradesh who along with Mr. Vijay Swami, director of RIWATCH is on a mission to bring strategic and sustainable development to this beautiful state. [more]
Bollywood Baatein

(This article is sponsored by Monique Kornfeld, Esq.)
Katrina Kaif will be celebrating her birthday in Ooty with her partner Salman Khan. While other girls are whittling their bodies away in a bid to be size-zero, Rimi Sen is headed the other way. [more]
Nataraja Rathothsavam 2008

(This article is sponsored by Maharishi Academy of Total Knowledge)
The New England Hindu Temple celebrates the festival of Aani Thirumanjanam every year reminiscent of the way it is done at Chidambaram. The event usually begins with the rathothsavam, whence Lord Nataraja is brought out from the sanctum sanctorum in a Chariot or Ratham. [more]
South Asian Art - In Memory Of Prashant H. Fadia

(This article is sponsored by Prashant H. Fadia Foundation)
Picking An Art Form For Your Kids
Carnatic Vocal or Western Chorus? Bharatanatyam, Bhangra or Kathak? Puzzled as to what art form to teach your kids? How to pick the right teacher? Lokvani gives a few tips. [more]
28th Raas Garba & Folk Dance Competition

Do not miss this opportunity to watch amazing dances performed by first place winners from all regions as part of the 28th Raas Garba & Folk Dance Competition in Lowell, MA on July 26th. Order your tickets right here! [more]
Arangetram - Maithreyi Shankar

I could not believe what I had achieved through dance. It changed my attitude and my work ethic. Through my arangetram practice and my new attitude, I even improved my grades in school. [more]
Islamic Separatism And Kashmir - A Pattern Of Jihad That Must End

Dr, Andrew Bostom and Dr, Subramanium Swamy highlighted emphatically that the primary cause of conflicts such as the one in Kashmir is the Islamic requirement for the faithful to convert Dar-ul-Harab states into Dar-ul-Islam by all means possible. [more]
UANA's 10th Annual Convention

Come and join Shri (Maj. Gen.) B. C. Khanduri, as Uttarakhand Association of North America hosts its 10th Annual Convention at Harvard University on July 19, 2008. [more]
Waves - Seventh International Hindu Conference

The three-day international conference with over 200 delegates at University of Central Florida, Orlando, that concluded on June 29, called for strong education and training of Hindu youth with many eternal values so that they can confront global problems and provide comprehensive solutions. [more]
2008 Vivekananda Family Camp

One of the best summertime activities for families with children ages 8-18 is the annual week long Vivekananda Family Camp in Tolland, MA from August 10-16, 2008. [more]
Prof. M. Saleemuddin Of AMU Visits Boston

Mrs. Zakia & Prof. M. Saleemuddin, Coordinator Interdisciplinary Biotechnology Unit, Professor of Biochemistry Department, Faculty of Life Sciences, AMU visited the Boston area on June 26th, 2008. [more]
Biotech Supply Chain Academy Conference

The first-of-its-kind event is being designed to provide an exclusive audience of senior-level executives with authoritative insights, best practices and market intelligence about the supply and distribution of biotechnology products. [more]
High School Students Gets A Taste Of Entrepreneurship At TYE Program

30 students, 7 teams developed 7 business plans, 1 winner of $10K prize - But the transformation of high school students into entrepreneurs is highly rewarding. [more]
Eating Healthy Food In Our Crazy Lives

"Eating right is even more important today when we do not have the time for it, than it ever was before. Because we have access to truckloads of junk food that the manufacturers are busy promoting directly to our kids. And let's not kid ourselves, we will not be able to lose the weight and cleanse our bodies later. Nor will our kids. The time to act is now," says Dr. Jyoti Ramakrishna. [more]
Shraddhaa For Youth, Jaahnavii For The Entire Family

"Suprabhatham!" a cheery voice calls out in Samskritam. The daily wake-up call has been announced. As I groggily open my eyes, I repeatedly ask myself why I am even awake at 6:00 in the morning... during the summer! [more]
Dr. Hagelin Reveals The Reality Of The Silent Ruler Of The Universe As Expressed By The Superstring Of The Unified Field

"One of the great things we can celebrate on Maha Shiva Ratri is the understanding and experience of the reality of Maheshvara, of Shiva - pure absolute silence." [more]
Prof. Muhammad Yunus, Social Business And The Future Of Capitalism

Earlier this year, Nobel laureate Prof. Muhammad Yunus was the invited guest speaker at MIT's 142nd commencement. In his prepared remarks to the students he outlined how he started microcredit from a simple desire to free villagers near his university in Chittagong from the penalizing interest that they paid to moneylenders. [more]
Tax Tips: IRS Pumps Up Standard Mileage Rates

Due to rising gas prices, the IRS has increased the "standard mileage rate" for business drivers in 2008 to 58.5¢ per mile. [more]
Weekend Entertainment

Catch up, register and purchase tickets for the events during this upcoming fortnight including Shishu Bharati, Raas Garba & Folk Dance Competition, Vivekananda Family Camp, Nayaki-The Poetic Journey, Krishna Bhakti Mala, The Dhananjayans and Anish Kapoor Exhibition. [more]
For The Mathematically Inclined

Congratulations to Anindya Basu, Aseem Chandawarkar, Sitaram Chandawarkar, Mahesh Danke, Shailesh Goregaokar, Roopesh Mathur, Prabhakar Nadkarni and Ashwin ShivaShankar, who were winners of the last set of puzzles. Here is one easy puzzle for students and one for adults. [more]
Music Review - Kismat Konnection

(This article is sponsored by Sounds Of India)
Shahid Kapoor and Vidya Balam team up in Kismat Konnection which promises to be a sweet romantic fare. With Pritam giving the music and lyrics by Sayeed Qadri and Shabbir Ahmed, one can expect great things. The track does not disappoint. [more]
Recipes - Healthy Eats

Healthy eating habits - surprising tasty substitutes. [more]
Laugh A While

Humorous English Signs From Around The World:
You are invited to take advantage of the chambermaid. [more]
Picture Of The Fortnight

Magnificent views of the Grand Canyon! [more]
Thought For The Day

Thoughts to ponder - The happiest of people don't necessarily have the best of everything; they just make the most of everything that comes along their way. [more]
Copyright © 2008 Lokvani.com. All Rights Reserved.
Lokvani Poll
Who will you vote for in the 2008 elections?

More Events