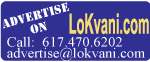 Sponsors
Dental/Medical
Billerica Medical
Flawless Dental
Education
Baby Hindustani
Chinmaya Mission
CRY
Learnquest
MATH MASTER, K-12 Tutoring Center
Maharishi Academy of Total Knowledge
Peabody Essex Museum
Entertainment
Sounds of India
Finance
Darshana Patel, CPA
Dinesh Tanna
Leader Bank/Mortgage
Nila Rakhit
Platinum Insurance
Pradeep K. Audho
Satya Mitra, EA, ATA, CFP
Lawyers
Monique Kornfeld, Esq.
Neil K. Sherring, Esq.
Richard Costa, Esq.
Shivani Shah, Esq.
Tadmor & Tadmor, LLP
Trupti Patel, Esq.
Vakili Karimi, Esq.
Mortgage
Accurate Mortgage
Mortgage Partners
Shrenik K. Shah
Printing/Phototgraphy
Collagist
Ratan Singhvi
Printing and Graphics Services
Timeless Lens Photography
Video By Roland
Realtors
Ananth Ram
Asha Shukhla
Dilip & Sara Varghese
Laroia Realty
SmartMoves
WestOfBoston
Swati Mukherji
Vimi Verma
Restaurants
Bollywood Grill
Mysore Veggie
Services
Alankar
B. D. Nayak, Architect
Darshan Thakkar
epuja
Minuteman Group
Moksha Spa
Shopping
Bashas Rugs
India Palace
Kay Pee Jewelers
Raj Jewelers
Travels
Madan Travel

LEAD ARTICLES
Lokvani Talks To Geeta Gandbhir, Emmy Award Winner

(This article is sponsored by Attorney Trupti Patel)
Geeta Gandbhir, a Newton native won the 2007 Emmy for film editing for the four hour documentary "When the Levees Broke" directed by filmmaker Spike Lee. She now lives in Brooklyn, NY with her husband and two kids. [more]
In Conversation With Ravi Chopra

(This article is sponsored by Attorney Rachel C. Tadmor)
Founder of the People Science Institute, an institution established to help eradicate poverty, it is famous for its work in the fields of community-led watershed development, environmental quality monitoring and disaster safe housing. Chopra talked to Lokvani about his lifetime passion for sustainable development. [more]
Bollywood Baatein

(This article is sponsored by Monique Kornfeld, Esq.)
This is my first birthday after marriage and therefore a very special occasion. But that apart, you know me. Spending time with the people I love is my greatest joy. I'm in a very happy place. [more]
Karwa Chauth At Satsang Center

(This article is sponsored by Maharishi Academy of Total Knowledge)
The romantic festival of Karwa Chauth was celebrated in a traditional fashion at the Satsang Center in Woburn. Women dressed in dazzling outfits prayed for the longevity of their marital relationship. [more]
South Asian Art History - In Memory Of Prashant H. Fadia

(This article is sponsored by Prashant H. Fadia Foundation)
Akshara Dham - A Modern Wonder - Part II
How often is a wonder of the world created? Not often. This wonder is a tribute to the spirit of volunteerism. It was built in just five years by over 11,000 volunteers offering over 300 million volunteer hours. [more]
PERFORMING ARTS
MITHAS TNS Concert - A Special Moment In History

MITHAS will go down in Carnatic music history as an organization that presented a concert of a lifetime. On Sunday Oct. 28th, Sangeetha Kalanidi T.N Seshagopalan encapsulated the audience with his enchanting music in a marathon concert which went for 5 hours! [more]
Rasarang Annual Function - A Grand Success

It was a good evening, not only in terms of the dances which were performed by students of Poornima Risbud but also in the high production values of the program. Aditya Kalyanpur's tabla interlude was brilliant. [more]
Mudra: The Gesture Speaks

Celebrating their 25th anniversary, Nataraj Dancers under the leadership of its founder and artistic director Ranjanaa Devi, will premier its newest dance theater production Mudra: The Gesture speaks..., a spectacular work linking dance, live music and theater in a series of arresting scenes. [more]
Upasana - Odissi Presentation

On Nov. 18th Upasana will stage its first show at Phillips Auditorium, Harvard College Observatory in Cambridge. It will be the beginning of Upasana's prayerful journey in presenting the lyrical and poetic style of Odissi. [more]
World Music Presents Zakir Hussain And Rahul Sharma

Son of Santoor Maestro Pandit Shivakumar Sharma, Rahul will be accompanied by none other India's great tabla virtuoso Zakir Hussain. Concert is on Friday Nov. 16 at 8:00 pm at the Sanders Theater in Cambridge. [more]
Neelam - The Dance Theater

Neelam is a fantastic presentation by one of the most creative choreographers, the beautiful and talented Anita Ratnam. It is on Sunday, November 11th at 4:30 pm. Buy tickets [more]
YCEP Presents Devi Mahima

YCEP presents Devi Mahima, a Bharatanatyam presentation on Friday Nov 2 6:30 pm at the Sri Lakshmi Temple in Ashland. Amrita Saigal, Amudha Pazhanisamy, Kavitha Vijaysekar and other students of Ranjani Saigal and Kausalya Srinivasan present a tribute to the "Female Energy". [more]
LOCAL HAPPENINGS
Saawariya Film Release

See the visual splendor of Bollywood's first Hollywood-produced film! Starring Ranbir Kapoor and Sonam Kapoor, with unforgettable music from Monty and Sameer, acclaimed director Sanjay Leela Bhansali brings us yet another lavish feast for the senses with Saawariya. [more]
Diwali 2007

With Diwali around the corner on Nov. 9, here is a list of all the upcoming Diwali events in town. [more]
Languages And Literature Of India

The series celebrates the living and style in different regions of India as expressed in the language and the literature. The 2007-2008 series will include lectures on Marathi, Bengali, Punjabi, Kashmiri, Sindhi and Konkani languages and their literature. [more]
IANH To Offer Free Classes In Partnership With SAHELI (Boston)

IANH is pleased to announce the launch of an initiative to raise awareness about domestic abuse issues, provide employable and social skills to persons in need, and create a safe networking environment for these persons. [more]
Your Soul's Compass: What Is Spiritual Guidance?

Devoted friend of the Indian community, Joan Borysenko, Ph.D., bestselling author, scientist, psychologist, and mystic will speak about her newest book, Your Soul's Compass: What Is Spiritual Guidance? at 7:30 p.m. on November 17th at Congregation Shirat Hayam in Swampscott, MA. [more]
Maharishi Ayurveda

India Society of Worcester (ISW) hosted a presentation on Maharishi Ayurveda. The most Ancient System of Health Care is clearly validated by modern medicine. [more]
Annual Banquet - Chinmaya Mission Boston

On behalf of Chinmaya Mission Boston, Dr. Desh Deshpande and Dr. Gopala Dwarakanath cordially invite you to attend the annual Diwali banquet on Sunday Nov 11th at 5:30 pm. It promises to be a gala evening featuring superb Indian cuisine. [more]
PEOPLE
Chandu Shah, Pres./CEO Of S4 Inc., Awarded SBA Minority Enterprise Development Boston District Award

Founder Chandu Shah was recognized for sustaining close to 110% average annual growth for S4. S4 has won several recognitions including being #14 of the Fastest 60 in MA as awarded by Boston Business Journal 'PACE SETTERS' of 2007. S4 has proudly sustained close to 110% average annual growth since inception. [more]
Billerica Honors Neelam Wali 'Woman Of The Year'

In a elegant ceremony honoring various awardees, Neelam Wali was honored as Billerica's Woman of the Year by the Boys and Girls Club of Billerica. [more]
ISW Recognizes The Talented Youths Of Community

On Saturday, October 27, 2007 India Society of Worcester (ISW) recognized the talented youth of Worcester community by awarding them one time scholarship. The awards were presented by ISW President Mrs. Meera Gupta during annual ISW Diwali function. [more]
Raj Jewelers Receives Greater Burlington's Best Jewelers Award

Raj Jewelers of Burlington, MA recently received the 2007 Best of the Best Greater Burlington's Best Jewelers Award. [more]
Remembering Vinod Chungi - A Tribute

Dr. Vinod Chungi, 62, a savant, patron-of-the-arts and friend to many, passed away on October 8th, 2007 in Mumbai, India. He was cremated in his hometown of Hyderabad. [more]
LIFESTYLE
Weekend Entertainment

Catch up and purchase tickets for the events during this upcoming fortnight including Madhup Mudgal Hindustani Vocal Concert, Mudra: The Gesture Speaks, Shubhra Guha Hindustani Vocal Concert, Neelam-The Dance Theater, Chinmaya Mission Annual Banquet, and Your Soul's Compass. [more]
For The Mathematically Inclined

Congratulations to Aseem Chandawarkar and Mukund Seshadri, who was the winner of the last set of puzzles. Here is one easy puzzle for kids and one for adults. [more]
Music Review - Saawariya

(This article is sponsored by Sounds Of India)
In Saawariya, Monty employs almost symphonic and really lavish and opulent arrangements and elaborate choral support – very effective in a romance filled narration! [more]
Recipes - U Is For Udipi Food

Udipi - the wholesome vegetarian cuisine! [more]
Laugh A While

The European Commission has just announced an agreement whereby English will be the official language of the European Union rather than German, which was the other possibility. [more]
Photo Of The Fortnight

Send us a caption for this photograph and we will declare the best three entries in our next issue. [more]
Thought For The Day

(This article is sponsored by epuja)
Yogi Vemana, a telugu poet wise saying. [more]
Copyright © 2007 Lokvani.com. All Rights Reserved.
Click here for more events