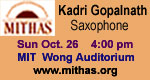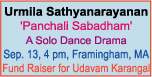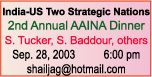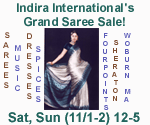 September 11 - Two Years Later


Two years have passed since that infamous day of attacks but the echoes still resound from New York to Afghanistan to Iraq and all over the world.

more...
In Conversation With Shona Ramaya, On Her New Book "Operation Monsoon"


"I would put my work in a different category and as breaking away from these trends and examining/exploring life in a transnational space" - Meet Shona Ramaya

more...
Technology - (Sponsored by The Boston Group)
Protection of Electronic Information


How can electronic information be protected from unauthorized use - current technology and future trends.

more...
Fund Raising Concert To Support Children in Jammu & Kashmir


Winner of many awards including Natyamamani, US based Sujatha Srinivasan presents a unique Bharatanatyam concert on Saturday, Sept 20 at 4:30 pm at Tufts University.

more...
Arangetram Round-Up

One hopes that for these talented dancers, 'Arangetram' or initiation on stage is just the beginning, not the end of their dancing days

.

NEMM Celebrates Ganeshotsav


More than 300 people gathered at Locke Middle School to celebrate Ganeshotsav, New England Marathi Mandal's (NEMM) gala event of the year.

more...
Pulitzer Winner Jhumpa Lahiri Reads From Her New Novel 'The Namesake'


Wordsworth Books in Harvard Square and Saheli, the group that offers friendship for South Asian Women host an evening with Jhumpa Lahiri on Tuesday, September 16.

more...
AAINA Organizes A Panel Discussion On September 28


The Second Annual AAINA dinner on September 28 at the Milan Restaurant in Shrewsbury will feature a panel discussion on the topic 'India-US-Two Strategic Nations'.

more...
Dinesh Patel Receives Top Honor


A member of the MGH Orthopaedic staff, Dinesh Patel, MD, chief of MGH Arthoscopic Surgery, recently received the 2003 John Clark Leadership Award.

more...
Indian Medical Association Announces Free Health Clinic Partnership


The Indian Medical Association of New England (IMANE) has enterd into a partnership with the Waltham Area Free Health Center (WAFHC) to provide deliver much-needed free health services to patients lacking health insurance in the greater Waltham region.

more...
Boston Based NRI Appointed For A Key US Post


Ajay Kuntumukkala, a well-known advocate on South Asian issues, has been appointed to the Bush Administration.

more...
Next Generation Foundation Launches Clothes/Stuffed Toys Drive For Indian Kids
From May through October 2003, NGF, a local non profit is collecting used clothes and stuffed toys (only) in US and Canada for the poor children in India. Donate now! more...
Meet Shri Bhagwat Rushi Shastri
The grandson of Shri Krishna Shankar Shastri (the inspiration behind establishing the Satsang Center at Woburn, MA) Bhagwat Rushi provides insights into the essence of leading a peaceful and quality life.
more...
Technology And Collaboration In Drug Discovery And Development Business


New Challenges with Genomic Data, Drug Discovery and Collaboration Strategy, Technology Collarborations and Pharma Value Chains were the topics of discussion at the TiE-Boston meeting on August 18th.

more...
Music Review - (Sponsored by Sounds of India)
Boom


Two thumbs up for Kaizad Gustad's ambitious, much anticipated new venture Boom's music, which is composed by Talvin Singh, Sandeep Chowta, Panjabi MC,D'Caro and Jez Humble among others.

more...
For The Mathematically Inclined


Congratulations to H. Ajbani, S. Mallick, M. Mankad, A. Mathur, M. Misra, D. Padmanabhan, Rekha R., R. Saluja, G. Varghese and B. Venkataraman, who were all winners of the last puzzle. In this issue we bring you yet another challenge.

more...
Movie Review - Teen Deewarein


Despite a highly improbable denouement, Nagesh Kukunoor's latest film, featuring Naseeruddin Shah, Jackie Shroff, Juhi Chawla and Nagesh is a must see for film buffs.

more...
Book Review - Operation Monsoon


"These are first rate stories: accomplished, absorbing, thoughtful and implicitly philosophical" - Susan Thornton on Shona Ramaya's short story collection "Operation Monsoon"

more...
Back To School Lunches


It is Monday Morning again and the kids need to pack their lunches. For those of you who are willing to try some Indian based non messy food, here are some of my favorites.

more...
Jokes - Gender Blender - Men vs Women


Marriage is a 3 ring circus: Engagement Ring, Wedding Ring, and Suffering.

more...
The Flower - A Poem
A poem penned by a Lokvani contributor from California. more...
Poem - September Remembered
By Vijay Persad.
more...
Picture Of The Fortnight


September 11 Memorial.

more...
Thought For The Day


In India, September 5 is celebrated as Teacher's Day in honor of Dr. Sarvepalli Radhakrishnan.

more...
Click here for more events