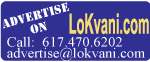 Sponsors
Dental/Medical
Billerica Medical
Flawless Dental
Education
Baby Hindustani
Chinmaya Mission
CRY America
Learnquest
MATH MASTER, K-12 Tutoring Center
Maharishi Academy of Total Knowledge
Peabody Essex Museum
Entertainment
Sounds of India
Finance
Darshana Patel, CPA
Dinesh Tanna
Leader Bank/Mortgage
Nila Rakhit
Platinum Insurance
Pradeep K. Audho
Satya Mitra, EA, ATA, CFP
Sangita Joshi
Lawyers
Monique Kornfeld, Esq.
Neil K. Sherring, Esq.
Richard Costa, Esq.
Shivani Shah, Esq.
Tadmor & Tadmor, LLP
Trupti Patel, Esq.
Vakili Karimi, Esq.
Mortgage
Accurate Mortgage
Mortgage Partners
Shrenik K. Shah
Printing/Phototgraphy
Ratan Singhvi
Printing and Graphics Services
Timeless Lens Photography
Realtors
Ananth Ram
Asha Shukhla
Dilip & Sara Varghese
Laroia Realty
Raminder Bhatia
SmartMoves
WestOfBoston
Swati Mukherji
Vimi Verma
Restaurants
Bollywood Grill
Mysore Veggie
Services
Alankar
B. D. Nayak, Architect
epuja
Minuteman Group
Moksha Spa
Shalini's Salon & Spa
Shopping
Bashas Rugs
India Palace
Kay Pee Jewelers
Raj Jewelers
Travels
Madan Travel
Lokvani Talks To Sangita Joshi

(This article is sponsored by Attorney Trupti Patel)
Sangita Joshi has been in the financial services industry for nearly ten years, as a financial advisor and marketing director. [more]
In Conversation With Anandam Kavoori, Author, Children Of Shahida

(This article is sponsored by Attorney Rachel C. Tadmor)
Termed original, intriguing and compelling, Children of Shahida has made its mark as a captivating first novel for Kavoori. Take a walk with the author, who is both humble and humorous, through his personal life and learn how it played a vital role in the writing of his first novel. [more]
Bollywood Baatein

(This article is sponsored by Monique Kornfeld, Esq.)
Is it over for Malaika and Arbaaz? News about their possible split has surprised or shocked many. Is the love party over? [more]
Asha Bhosle Delights Boston

(This article is sponsored by Maharishi Academy of Total Knowledge)
75 years young Asha Bhosle, along with Amit Kumar delighted the Boston audience with her singing and dancing presenting her own songs and those of others that she admired including Geeta Dutt. [more]
South Asian Art - In Memory Of Prashant H. Fadia

(This article is sponsored by Prashant H. Fadia Foundation)
Identifying Indo-Portuguese Art
While the Portuguese valued Indian artistic innovations in terms of form and style, they were clearly beguiled by the luxurious materials used in many Indian objects. [more]
Dishoom Knocks Audience Over

MIT SAAS Culture Show 2008 held at the MIT Kresge Auditorium on April 11 was a wonderful amalgam of song, dance, and comedy that kept the audience very entertained for the entire duration. [more]
Showcase India 2008

The India Society of Worcester's Youth Group presented "Showcase India 2008", a cultural event enjoyed by everyone. [more]
Brown Badmaash Performance Show At Brown University

Brown Badmaash, Brown University's only nationally competitive South Asian dance troupe, is hosting its annual performance show on April 27th. Look forward to an energetic and festive night of dance ranging from bhangra to classical South Indian, from raas to hiphop, and much more! [more]
Divine Knowledge Of Vedas And Vedic Scriptures

As part of the enlightening series of discourses on Divine Knowledge of Vedas and Vedic Scriptures organized by Neelu Sharma at the Sarva Dev Mandir in Oxford, MA, Siddeshvari Devi Ji discussed Learning from Ancient Traditions and What It Means To Be A Hindu. [more]
Just Say "I Do!"

On Saturday, April 26, the Peabody Essex Museum unveils Wedded Bliss, The Marriage of Art and Ceremony - a wide-ranging exploration of the wedding as artistic inspiration across cultures, lifestyles and three centuries. [more]
Over 150 Attend IITSINE Annual Gathering

The IIT Alumni Association in New England held their annual gathering at the Lexington Lodge of the Elks on April 5, 2008. [more]
New England Tamil Sangam's Chithirai Vizha Marks Tamil New Year

It was a stage set for all the fun and excitement equally for children, adults and elders with Carnatic music, Bharata Natyam, Karaoke singing, keyboard, Folk songs and dances, by the New England Tamil Sangam on April 12, 2008 to commemorate Tamil New Year. [more]
IANH Conducts NSF Regional Education Bees 2008

It is the season of the NSF Education Bees again where all the three Math Bee toppers, Ankita Devasia (Level 1), Nisha Devasia (Level 2), and Anish Thilagar (Level 3) were participating at their level for the first time. [more]
Dr. Sahdev Passey Receives 2008 Community Clinician Of The Year Award

Dr. Sahdev R. Passey, Holden resident and Worcester physician, has been named 2008 Community Clinician of the Year by the Worcester District Medical Society. [more]
Pradip Ghosh Awarded Patent

Pradip Kumar Ghosh, a resident of Worcester, MA, has recently been honored with United States Patent No. US 7,228,972 for his invention on "Short Bar Separation and Recovery System and Method" related to the automatic handling of short steel products in sophisticated rolling mill units. [more]
Giving Smart, Getting Impact - New Models Of Social Philanthropy

Desh Deshpande, Miki Akimoto - Co-Founder of Saffron Circle and Jim Matheson - Partner at Flagship Ventures provide a standing room only crowd with some guidance on charitable giving. [more]
South Asian Feminisms: Gender, Culture And Politics

On March 28th and 29th, several dozen academics, activists, researchers and scholars gathered at the McNeil Center for Early American Studies at the University of Pennsylvania for a two-day conference entitled "South Asian Feminisms: Gender, Culture and Politics" . [more]
Improve Your Health At New, Interactive Website: DoctorsOnTM.org

DoctorsOnTM.org is a new website where specialists answer your questions about the Transcendental Meditation program and health. The website is run by the The American Association of Physicians Practicing the Transcendental Meditation Program. [more]
Weekend Entertainment

Catch up, register and purchase tickets for the events during this upcoming fortnight including Art of Living Course, Shanno Khurana Concert, Brown Badmaash, Turn It Up, Zakir Hussain Concert, TiECON East 2008, Ranjani Shettar Exhibition and Artistic Exchange Between India and Portugal. [more]
For The Mathematically Inclined

Congratulations to Sitaram Chandawarkar, Manish Goregaokar and Shailesh Goregaokar, who were winners of the last set of puzzles. Here is one easy puzzle for students and one for adults. [more]
Music Review: Journey By Fuzon

(This article is sponsored by Sounds Of India)
Fuzon is a band from Pakistan comprising of vocalist Rameez Mukhtar, guitarist Shallum Asher Xavier and keyboardist Imran Momina (Emu). Their music as described by their former vocalist Shafqat Amanat Ali is a fusion of Pakistani classical music and modern western music. [more]
Book Review - Marrying Anita

The Sex and the City lifestyle just weren't working for Anita Jain. Three years of living and dating in New York filled her with nothing but loneliness and frustration. [more]
Cartoon: Mukesh Ambani's New House

Upar Mukesh Ka Makaan
Neeche Ushi Ki Dukaan! [more]
Recipes - Cooking Under Pressure

Fast to cook and delicious to eat pressure cooking recipes! [more]
Jokes - Laugh A While

How things work in India (Joke). [more]
Picture Of The Fortnight

Can you guess this beautiful place? [more]
Thought For The Day

(This article is sponsored by epuja)
'The newer people of this modern age are more eager to amass than to realize' - Rabindranath Tagore, poet, philosopher, author, songwriter, painter, educator, composer, Nobel laureate (1861-1941). [more]
Obituary - Mr. Sujay Kumar Verma

Mr. Sujay Kumar Verma, a resident of Winchester, MA for twenty seven years recently passed away at the age of 62. [more]
Copyright © 2008 Lokvani.com. All Rights Reserved.
Lokvani Poll

Who will you vote for in the 2008 elections?


Click here for more events