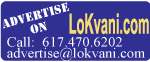 Sponsors
Dental/Medical
Billerica Medical
Flawless Dental
Education
Baby Hindustani
Chinmaya Mission
CRY America
Learnquest
MATH MASTER, K-12 Tutoring Center
Maharishi Academy of Total Knowledge
Peabody Essex Museum
Entertainment
Sounds of India
Finance
Darshana Patel, CPA
Dinesh Tanna
Leader Bank/Mortgage
Nila Rakhit
Platinum Insurance
Pradeep K. Audho
Satya Mitra, EA, ATA, CFP
Lawyers
Monique Kornfeld, Esq.
Neil K. Sherring, Esq.
Richard Costa, Esq.
Shivani Shah, Esq.
Tadmor & Tadmor, LLP
Trupti Patel, Esq.
Vakili Karimi, Esq.
Mortgage
Accurate Mortgage
Mortgage Partners
Shrenik K. Shah
Printing/Phototgraphy
Collagist
Ratan Singhvi
Printing and Graphics Services
Timeless Lens Photography
Video By Roland
Realtors
Ananth Ram
Asha Shukhla
Dilip & Sara Varghese
Laroia Realty
SmartMoves
WestOfBoston
Swati Mukherji
Vimi Verma
Restaurants
Bollywood Grill
Mysore Veggie
Services
Alankar
B. D. Nayak, Architect
Darshan Thakkar
epuja
Minuteman Group
Moksha Spa
Shopping
Bashas Rugs
India Palace
Kay Pee Jewelers
Raj Jewelers
Travels
Madan Travel
Lokvani Talks To...in The Year 2007 - Part 2

(This article is sponsored by Attorney Trupti Patel)
We continue our coverage of profiles of 2007. [more]
In Conversation With....In The Year 2007 - Part 2

(This article is sponsored by Attorney Rachel C. Tadmor)
Here are interesting people who were featured in Lokvani during the Year 2007. [more]
Bollywood Baatein

(This article is sponsored by Monique Kornfeld, Esq.)
Shilpa has also signed her first bollywood film after Big Brother back home. The film titled 'The Man' will be produced by Sunny Deol and has been written by Neeraj Pathak. [more]
IARI New Year Cruise

(This article is sponsored by Maharishi Academy of Total Knowledge)
India Association of Rhode Island celebrates New Year's Eve on a cruise in Narragansett Bay on Queen's Jubilee yacht. [more]
South Asian Art - In Memory Of Prashant H. Fadia

(This article is sponsored by Prashant H. Fadia Foundation)
In 2007 Lokvani started a new tradition to bring articles related to Indian art and architecture. From ancient temples to contemporary Indian art, India's contribution to art is unquestionable. Here is PART II of the collection [more]
Chhandika And MIT Presents Sangeet

The looming threat of another major New England snowstorm did not keep an enthusiastic audience from a night of Music-Rhythm-Dance-Drama at Little Kresge Theatre at MIT. The concert and dance program, entitled Sangeet, was jointly sponsored by Chhandika, MIT Department of Music and Theatre Arts and MITHAS on December 15, 2007. [more]
Devotion Through Dance

Dance teachers Mrs. Jeyanthi Ghatraju and Ms. Neha Parikh along with their students had lovingly prepared a program of dance selections in celebration of month of Marghazhi which they presented at the Sri Lakshmi Temple. [more]
Suhas Rao Vocal Concert - A Review

Suhas Rao, student of Smt. Geetha Murali presented a lovely vocal concert as a part of the HK series. [more]
Music In New England

New England was host to many fine musical shows during 2007. [more]
Boston Telugu Community Relives Nostalgia Of Ghantasala

The Telugu Association of Greater Boston (TAGB), in association with the Vegesna Foundation of Hyderabad, presented an evening of classic Telugu cinema music from yesteryears on December 1st 2007, to raise funds for the Foundation's service of disabled children. [more]
500 Plus Attend Shirdi Sai Baba Temple Inauguration

New England Shirdi Sai Parivar (NESSP) held the long awaited opening of the Shirdi Sai Baba Temple on the auspicious day of Dattatreya Jayanti on December 23rd, 2007. [more]
IAGB Republic Day - Preview

The celebration is on Saturday, January 26, 2008, from 4.00 pm until 8:00 pm, at the auditorium at the Lexington High School, Lexington, MA. Seating will be on a first-come-first-serve basis rather than based on RSVP like the previous years. [more]
The South Asian Voice

With all the excitement about the presidential contests where every candidate is "listening to our voice so they can find theirs," South Asians have an opportunity to have our voice heard. We list a few South Asian issues and urge you to add to the list! [more]
HSS Announces Surya Namaskar Yagna

Hindu Swayamsevak Sangh announces offering ('yagna') of one million Sun Salutations known as Surya Namaskar, to bring awareness among people about Yoga and its advantages in achieving healthy body, mind and spirit from Jan. 12-27, 2008. [more]
Community Achievements 2007 - Part 2

From business to spirituality, let's take a look at what our community has achieved and provided to the society. [more]
The Eternal Music Of Nature: Maharishi Gandharva Veda

What is Maharishi Gandharva Veda? How is it different from most modern Gandharva Veda? [more]
Buying Long Term Insurance? Five Things To Know

You've researched long-term care insurance (LTCI) and are seriously thinking of buying a policy. Just make sure you're doing it for the right reasons - don't be swayed by unsubstantiated sales pitches. Here are some claims you'll want to think twice about. [more]
New Year's Blessings

At this time of the New Year we should take the opportunity to turn back and look, with eyes of examination and introspection, upon the last 12 months. Where did we succeed? Where did we fail? What did we achieve in these precious 365 days bestowed upon us by God? Has the world benefited by our existence? Have we grown spiritually? [more]
A Qualified Mind

At this time when we see the condition of the world, many of us want to serve the world. But when our own minds are affected by the conditions of the world, we cannot really serve the world. [more]
IANH Town Hall Meeting For The Presidential Primary

Over 30 people attended the Town Hall meeting organized by the India Association of New Hampshire on Saturday, January 5th at the Meadowview Estate Club House, Nashua, NH, to discuss the presidential primary politics. [more]
Poem - Happy New Year

H ours of happy times with friends and family
A bundant time for relaxation
P rosperity
P lenty of love when you need it the most
Y outhful excitement at lifes simple pleasures ... [more]
A New Column On Social Entrepreneurship

With this first issue of 2008, we are pleased to begin a new column in Lokvani focused on Social Entrepreneurship. We look forward to hearing from you about interesting and innovative social entrepreneurs that you might have come across. [more]
Weekend Entertainment

Catch up, register and purchase tickets for the events during this upcoming fortnight including Surya Namaskar Yagna, Ram Darbaar Sthapana, IAGB Republic Day Celebrations, and Art of Living Course. [more]
For The Mathematically Inclined

Due to the holiday season we give you two more weeks to solve the puzzles. Here is one easy puzzle for kids and one for adults. [more]
Musically Yours - Part II

(This article is sponsored by Sounds Of India)
Chak De India, Om Shanti Om, Aaja Nachle and other tracks kept us entertained in 2007. [more]
Recipes - New Year And New Food

Food - This year we would like to focus on the flavors of the East and the West.Blend,Fusion call it what you may. Supriya Raman who has her own food blog contributes. [more]
Picture Of The Fortnight

Can you guess where this picture is ? Look for a clue inside. [more]
Thought For The Day

(This article is sponsored by epuja)
" Drop the idea that you are Atlas carrying the world on your shoulders. The world would go on even without you. Don't take yourself so seriously." --- Norman Vincent Peale. [more]
Copyright © 2007 Lokvani.com. All Rights Reserved.
Lokvani Poll

Who will you vote for in the 2008 elections?


Click here for more events