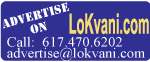 Sponsors
Dental/Medical
Billerica Medical
Flawless Dental
Education
Baby Hindustani
Chinmaya Mission
CRY America
Learnquest
MATH MASTER, K-12 Tutoring Center
Maharishi Academy of Total Knowledge
Peabody Essex Museum
Entertainment
Sounds of India
Finance
Darshana Patel, CPA
Dinesh Tanna
Leader Bank/Mortgage
Nila Rakhit
Platinum Insurance
Pradeep K. Audho
Satya Mitra, EA, ATA, CFP
Sangita Joshi
Lawyers
Monique Kornfeld, Esq.
Neil K. Sherring, Esq.
Richard Costa, Esq.
Shivani Shah, Esq.
Tadmor & Tadmor, LLP
Trupti Patel, Esq.
Vakili Karimi, Esq.
Mortgage
Accurate Mortgage
Mortgage Partners
Shrenik K. Shah
Printing/Phototgraphy
Ratan Singhvi
Printing and Graphics Services
Timeless Lens Photography
Realtors
Ananth Ram
Asha Shukhla
Dilip & Sara Varghese
Laroia Realty
Raminder Bhatia
SmartMoves
WestOfBoston
Swati Mukherji
Vimi Verma
Restaurants
Bollywood Grill
Mysore Veggie
Services
Alankar
B. D. Nayak, Architect
epuja
Minuteman Group
Moksha Spa
Shalini's Salon & Spa
Shopping
Bashas Rugs
India Palace
Kay Pee Jewelers
Raj Jewelers
Travels
Madan Travel
Lokvani Talks To Afsana Akhter

(This article is sponsored by Attorney Trupti Patel)
Afsana Akhter, Director of Business Development at Medullan, Inc. has been recognized by Mass High Tech as one of the top ten women to watch. Akhter spoke to Lokvani about her professional success and provided useful pointers for youngsters to succeed. [more]
In Conversation With Nalini Sharma And Reema Chandra

(This article is sponsored by Attorney Rachel C. Tadmor)
Nalini Sharma and Reema Chandra of the AIF Leadership Council visit centers in India. Their stories....... [more]
Bollywood Baatein

(This article is sponsored by Monique Kornfeld, Esq.)
Can you guess the price Aishwarya Rai-Bachchan was paid for her role in an upcoming movie? Did you know Himesh Reshammiya has signed a three-film contract with T-Series? [more]
Bharatanatyam And Carnatic Music At Havard

(This article is sponsored by Maharishi Academy of Total Knowledge)
Sunanda Narayanan presented traditional and contemporary pieces in the Bharatanatyam Style at the Agassiz Theatre, Harvard University on Friday, March 14, 2008. Samir Rao, a student at Harvard, gave a short Carnatic music recital as part of the event. [more]
Illustrated Books - The Mughal Way

(This article is sponsored by Prashant H. Fadia Foundation)
Akbaranama (biography of Akbar), literary works such as the Razmnama, a Persian translation of the Hindu epic, the Mahabharata and the Ramayana attributed to the Atelier of Muhammad Khan-iKhanan, commander-in-chief of the Mughal army are extensively illustrated. [more]
Evolving Traditions: A Celebration Of Indian Music And Dance

Experience the dynamic sounds and movement of India's rich culture of performing arts, featuring acclaimed Carnatic saxophonist, Prasant Radhakrishnan, and NY-based Bharatnatyam dancer, teacher, and choreographer, Malini Srinivasan on April 5th at Wellesley College. [more]
Akshaya Patra Presents Vasant Vilas

"In a short time, Akshaya Patra has grown to become the largest, and certainly most innovative, school lunch program in the world" says Desh Deshpande. Vasant Vilas by Mouli Pal and her troupe is a fund raiser for this special charity. [more]
India Conference 2008 @ Harvard

An unique event featured experts on doing business across borders. The conference was hosted by the South Asian Business Association(SABA) at Harvard Business School. [more]
Ranjani Shettar Creates New Sculpture For The ICA's Momentum Series

Institute of Contemporary Art's Momentum series features Ranjani Shettar and the delicate sculptural installations that deftly blend the natural with the man-made, the landscape and the urban environment. On view starting today! [more]
World Religion Students Visit Oxford Hindu Temple

On March 6th, World Religion students of Nichols College Professor Conrad Pecevich took in the sights and sounds of the Sarva Dev Hindu Mandir located on Route 12 in Oxford, MA [more]
Maha Shivaratri Celebrated With Fervor At Chinmaya Mission

Maha Shivaratri, the festival of the Hindus, was celebrated with religious fervor at the Chinmaya Mission, Andover, MA on Wednesday, March 5th, 2008. [more]
New Exhibition Celebrates The Dynamic Cultural Exchange Between India And Portugal Around 1600

The Luxury for Export: Artistic Exchange between India and Portugal around 1600 exhibition at the Gardner Museum showcases sumptuous Indo-Portuguese objects and reveals new discoveries about a rare silk embroidery. [more]
CRY In Connecticut Celebrates Holi

Performances by UConn Surya,Raunak Bhangra,Vande Matra, DJ Harry and sumptuous Indian food will all be part of a fundraiser by the Connecticut Chapter of CRY on 22nd March, 2008 at the Colonnade, Glastonbury, CT [more]
Brahma Kumaris Learning Center Celebrates Shivratri

The evening of 2nd March 2008 marked a pious evening for many, as the Brahma Kumaris Learning Center for Peace in Watertown, MA , celebrated the festival of 'Shivratri' (the night of the Shiva) [more]
Vancha Kalpalatha Ganapathy Homam

An appeal for funds for the temple! [more]
What Is So Fascinating About Consciousness And Inner-technologies

On Saturday, April 05, 2008, Satsang Center of Woburn is hosting a unique and stimulating interfaith dialogue on the topic of "Consciousness and Inner-Technologies". [more]
Inspiration, Infectious

Naveen Lakshmipathy grew up in the San Francisco Bay Area and is a graduate of UC Berkeley. As an August 2007 Indicorps fellow, he worked on developing sustainable business models for rural entrepreneurs in Dharwad, Karnataka. [more]
Comparing The Neural Images Of Three Different Types Of Meditation

The neural images of different types of meditation are distinctly different. Brain blood flow and brain metabolic rate imaged using MRI and PET show thicker right insula, and change in activity levels of frontal, thalamus and parietal lobe. [more]
Vigyan Ashram - A Hidden Rural Education Jewel

Twenty five years ago Dr. Shrinath S. Kalbag ventured forth to setup Vigyan Ashram an experiment in teaching rural youth through a curriculum of non-formal education. Today, Vigyan Ashram stands as a shining example of an organization that is helping revitalize the rural Indian economy through appropriate training and education. [more]
Yours Friendly: Saheli

"I owe this success to SAHELI and its highly skilled instructors who volunteer their services in order to help the community."- A Saheli recipient who benefited from its computer classes. [more]
Poem: Magic Of Colours

On the festive occasion of Holi! [more]
Weekend Entertainment

Catch up, register and purchase tickets for the events during this upcoming fortnight including Ranjani Shettar Exhibition, Uday Bhawalkar Concert, Art of Living Course, luxury for Exxpost Conservation Discussion, Vasant Vilas Odissi Dance, IITSINE Annual Social and LearnQuest Music Conference. [more]
For The Mathematically Inclined

Congratulations to Aseem Chandawarkar, Sitaram Chandawarkar, Shailesh Goregaokar, Prabhakar Nadkarni and Hari Pillai, who were the winners of the last set of puzzles. Here is one easy puzzle for students and one for adults. [more]
Music Review - Shaurya

(This article is sponsored by Sounds Of India)
Adnan Sami teams up with lyricist Javed Aktar and director Samar Khan to create an album that would be a hit with Gen X listeners. [more]
Book Review - The Age Of Shiva

The Age of Shiva - a 451-page novel of grand proportions, where the characters come alive as Suri breathes life into each one by carefully sketching the details of their lives and personalities. [more]
Film Review - Ahista Ahista

It is a simple tale, elegantly told. Characters seem real...for the most part. It is certainly well-acted. As Hindi movies go, Aahista Aahista is something of a 'Sadma' for our times. It is a tried and true formula with a slight tweak. The hero is not quite the hero. [more]
Recipes For Holi

The colors of Holi and Thandai - the arrival of spring! [more]
Laugh A While

When laughter is the best medicine! [more]
Picture Of The Fortnight

The Pyramids of Egypt ! [more]
Thought For The Day

(This article is sponsored by epuja)
What is optimism anyway? [more]
Copyright © 2008 Lokvani.com. All Rights Reserved.
Lokvani Poll

Who will you vote for in the 2008 elections?


Click here for more events