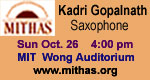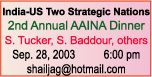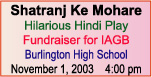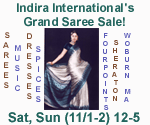 Gandhi Jayanthi - October 2


"To excavate the message of Gandhi from the debris of history is to appreciate that dialogue is indispensable in these especially fraught times," says Sukumar Muralidharan of Frontline, India.

more...
Indian Americans Among Top 100 Innovators
MIT's Technology Review has identified the top 100 researchers for the year of 2003 whose research will transform our world in the years to come. Lokvani presents interviews with two members of the TR100 Class of 2003.
Prof. Krishna Kumar TR100 Class Of 2003


Dr. Krishna Kumar from Tufts University was recognized for his work on chemically altering segments of proteins by stiffening their structures and improving their stability.

more...
Prof. Sangeetha Bhatia TR100 Class Of 2003


Dr. Sangeetha Bhatia, from University of California at San Diego (daughter of Narain and Vidya Bhatia of Lexington, MA) was recognized for her work on engineering a liver from scratch.

more...
Technology - (Sponsored by The Boston Group)
New Drug Discovery Strategies: Disease Targets And Target Validation


The sequencing of the human genome has created a great deal of excitement. In order to achieve the goal of developing novel therapeutics to treat serious human diseases, significant technological progress needs to be made to industrialize the processes of target validation and drug discovery.

more...
Indian Contemporary Art At The Peabody Essex Museum


The museum, a cultural haven in the midst of the bustling town of Salem boasts a rare collection of paintings by contemporary Indian artists.

more...
Shatranj Ke Mohare - IAGB To Present Yet Another Gem!


Do not miss this opportunity to watch the classy, ribtickling play 'Shatranj Ke Mohare'. Directed by Mr. Mohan Dali who is renowned for giving Rajesh Khanna and Kader Khan their first break on stage in this very play!

more...
Lokvani Sponsors A Free College Admission Workshop


Confused about colleges? Do not know what your top choice college is looking for in their candidate? This free college workshop is for you! Come and meet the director of admissions of Tufts University.

more...
FIRE - Funding Indian Rural Enterprise


FIRE's 100 Weaves of India - will showcase 100 different textile arts of India, collectors items and rare pieces and also provide information on rural artists and villages with a series of demos and talks.

more...
Wipro Chief Azim Premji At MIT


Wong auditorium was packed to capacity as Azim Premji spoke on current trends in global services, business process outsourcing and creating a world class organization.

more...
For The Mathematically Inclined


Congratulations to S. Mallick, D. Padmanabhan, L. Padmanabhan, K. Potnis, G. Varghese and B. Venkataraman, who were all winners of the last puzzle. In this issue we bring you yet another challenge.

more...
Music Review - (Sponsored by Sounds of India)
Deewar By Junoon


Deewar, the latest album by the 'Sultans of Rock' ROCKS!

more...
Film Review - Hum Dono, A Classic Revisited


'Abhi na jao Chod ke, ke dil abhi bhara nahin' Dev Anand, Sadhana and Nanda star in this classic from 1961.

more...
Book Review - Chachaji's Cup


This is a good first book for a child to learn about the division of India and the great migration of thousands of people.

more...
The Pros And Corn Of Cooking


Harvesting Fresh Corn with Mouth Watering Corn Food -

more...
The Nandotsava Festival


Following in the wake of its inaugural Cricket tournament, the Vrindavana Preservation Society (VPS) organised the Nandotsava Festival Celebration at the Quincy High School on August 24, 2003.

more...
Panchali Shabadam Brings Mahabharata To Life


Urmila Satyanarayana's sensitive portrayal of Draupadi in Panchali Shabadam was a treat for dance affectionadoes.

more...
Graceful Recital By Sujatha Srinivasan


Sujatha Srinivasan's rendition of unique pieces like the Varnam based on Meera Bhajan brought a fresh perspective to Bharatanatyam.

more...
ICICI: Indian Financial Services For The Future


ICICI, with total assets values at approximately Rs. 1 trillion, was initially set up to fund industrial development in India and has evolved into a major player in the Indian financial services community, serving both consumer and corporate clients.

more...
Young Voices - The Great Escape
"Even though I experienced the horror of the escape from Kuwait, my memory does not serve me well when I try to remember those days," - a young contributor recalls those days of trauma. more...
UNF Seeks Partnership With Indian Diaspora In US


The UN Foundation has recognized India's promise by investing more than $24 million toward development there.

more...
Humor - Cut It Out Carolyn


Whether or not you win the sweepstakes, the Yugo is yours to keep. But no one wants to touch a Yugo with a ten foot pole! Not even the Yugoslavians.

more...
Dumb And Dumber - Politically Incorrect Jokes


What do you call a blonde who dyes her hair? Artificial intelligence.

more...
Thought For The Day
October 2 is Gandhi Jayanti. A few quotes from the Mahatma. more...
Click here for more events