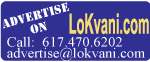 Click here for more events
Our Voice And Yours


Your sari is like a thermos...

Think Again - US ranks 65th worldwide in terms of percentage of population that is foreign-born, according to the U.N. report! [more]
Lokvani Talks To Dr. Sunita Pereira

(This section is sponsored by New England Shirdi Sai Temple)

Dr. Sunita Pereira (Chair), Dr. Srinath Reddy, President, Public Health Foundation of India, and Dr. Gary Darmstadt, a neonatologist and Professor of Pediatrics, Stanford University and former Fellow at Bill and Melinda Gates Foundation will participate in the 1st inaugural AIF MANSI summit in Boston on April 18, 2015. [more]
In Conversation With Marc Pollick

(This section is sponsored by Stephen Campbell, Mortgage Master)

"Giving increases your endorphins making for a healthy life," says Marc Pollick, the founder of the Giving Back Fund that leverages the power of celebrity to benefit a charitable cause. Marc talks about philanthropic foundations and discusses why it is important to teach children to give. [more]
Bollywood Baatein

(This section is sponsored by Monique Kornfeld, Esq.)

Indian playback singer Shreya Ghoshal recently tied the knot with long-time boyfriend Shiladitya Mukherjee in a quiet ceremony on February 5th. [more]
IAGB Honors Women Achievers At Republic Day 2015

(This section is sponsored by Masala Art)

The India Association of Greater Boston celebrated India's 66th Republic Day at the Burlington High School in Burlington, MA. The theme was Nari Shakti. Dr. Anbukili Chetty, Dr. Chander Kapasi, Neena Gulhati, Prof. Soraiyya Hussein and Rani Nautiyal were honored for there achievements [more]
Three Indian MIT Professors Elected To National Academy Of Engineering

(This section is sponsored by Kanan Sachdeva)

Profs. Anantha Chandrakasan, Sangeeta Bhatia and Hari Balakrishnan were elected to the prestigious National Academy of Engineering. Election to the National Academy of Engineering is among the highest professional distinctions accorded to an engineer. [more]
Young Professional - Aishwarya Balaji


Aishwarya Balaji is an Advisory Experienced Associate at Pricewaterhouse Cooper. She has had a wide range of experience during her college days from serving as a wedding and event coordinator for Pink Lotus Events to working as a business intelligence intern at Boston Scientific and an operations intern at Liberty Mutual Insurance. She is also a well trained Bharatanatyam dancer. She shares her story with Lokvani. [more]
Sounds Of India Turns 40


Despite a snow storm, the event to honor 40 years of Sounds of India, a radio show hosted by Harish and Binita Dang attracted a large group of supporters who were diehard fans of the show. The event hosted by Praveen Misra, Anuradha and Prashanth Palakurthi, Meena and Mohan Subramanium, Preetesh Srivastava and others was a great tribute to the Dangs. [more]
LearnQuest Hosts 10th Annual Music Conference


Abhishekh Raghuram, Sanjeev Abhyankar, Nishat Khan and more ... at the fabulous music conference to be held on April 3rd-5th at the Regis College in Weston, MA. [more]
Jain Social Group Celebrates Family Fun Evening


Jain Social Group, a social platform for Jains and their non-Jain Friends hosted Family Fun Evening on Feb. 7th in Burlington, MA. [more]
Reading Valmiki Ramayana – An Effort At Dwarkamai Vidyapeeth


Valmiki's Ramayana is composed of seven books called kanda (trunks) in Sanskrit literature. Bijoy Misra just completed the second book last week and will start the third book this coming Sunday, February 15 from 3:00 PM - 5:30 PM in Dwarkamai. [more]
Suresh Kalathur Talks About Data Mining At Shri Gurusthan, Northboro


Prof. Suresh Kalathur's seminar touched upon many of the significant components of data mining and analytics, such as concepts and techniques of data mining, comparing various data mining techniques, and understanding the differences between OLTP, OLAP, and data mining. Also, in depth demonstrations on practical applications were given with the use of open source tools, such as WEKA, R, and BIRT. [more]
Pramit Maakoday And Srikanta Bhaskara Help Launches E-Kisaan Program


Developed by Pramit Maakoday and Srikanta Bhaskara of Boston, Karnataka Chief Minister Siddaramaiah launched eKisaan initiative in which free tablets are distributed to farmer clubs in Bagalkot and Bijapur districts. [more]
New England Hindi Manch Sahitya Sammelan


Interested in Hindi Literature? Do not miss this fabulous evening of poetry, music and drama on March 1, 2015. [more]
South Asian Arts Council Screening: Rafting To Bombay


With an amazing response from our last screening, the South Asian Arts Council is excited to announce a special screening of "Rafting to Bombay" at the Vilna Shul on February 22, 2015. Please join us for an amazing story seen through the eyes of one family's journey and love for India. [more]
India Conference At Harvard


In 2015 we will be celebrating our 12th anniversary. The conference will bring together business leaders, entertainment professionals, government officials, philanthropists, and many other leaders to engage in a conversation about India's path to Global leadership. [more]
Connecticut State Assembly Honors GOPIO Founder Dr. Thomas Abraham


Connecticut State Assembly honored Dr. Thomas Abraham, Founder President of the Global Organization of People of Indian Origin (GOPIO). [more]
In A League Of Its Own: Variable Annuities Offer A Wealth Of Benefits


As today's challenging economic environment continues to stir up Americans' retirement nest eggs, there's a growing demand for investment vehicles that provide stability and support to meet long-term needs in retirement. [more]
How Will The SAT Change Next Year?


Will you still take the current SAT in 2015, or the new SAT in 2016? Or should you consider the ACT instead? The redesigned PSAT launches in October 2015 – so students should take this test to practice for the new SAT. [more]
Trauma Sensitive Yoga: An Adjunctive Therapy For Treating Trauma


Trauma Sensitive Yoga (TCTSY) as taught by the Trauma Center of Brookline, MA is an adjunctive treatment for complex trauma and PTSD that is based on aspects of trauma theory, neuroscience and attachment theory. Lisa Boldin of the Wholistic Health Alliance talks about this yoga. [more]
For The Mathematically Inclined


Congratulations to Kishore Balsara, Richa Juvekar and Suhas Pathak, who were winners of the last set of puzzles. Here are two puzzles for one and all! [more]
Weekend Entertainment


Catch up, register and purchase tickets for the upcoming events and concerts including Hindi Manch Sahitya Sammelan, UIA Lets's Play Holi, DAWAT 2015, Chhaya Geet, IITSINE Gala Dinner and Raag Rang. [more]
Music Review: Valentine's Day Special 2015

(This section is sponsored by Sounds Of India)

Here it is…two wonderful playlists ready for Valentine's day 2015! Whether you're into new Bollywood romance or the golden oldies, these playlists are meant for you. [more]
Laugh A While


A guy says to his friend, "Guess how many coins I have in my pocket." The friends says, "If I guess right, will you give me one of them?" The first guys says, "If you guess right, I'll give you both of them!" [more]
Cartoon: Let's Eat Out


Honey I am fine! [more]
Recipes - Hot Soups For Cold Winter Days


Beat the winter blues with some hot and spicy soups - Murgh Makai Shorbha to Lemon Coriander to good old pepper Rasam, something to heat up the cold winter [more]
Picture Of The Fortnight


Nocturnal life in Costa Rica! [more]
Thought For The Day


The most difficult thing is the decision to act, the rest is merely tenacity. – Amelia Earhart. [more]
Copyright © 2015 Lokvani.com. All Rights Reserved.
Sponsors
Harvard Pilgrim Health Care (HPHC)
Education
AcceptU
AID
Akshaya Patra
Amma New England Satsangs
America India Foundation
Apna Books
ATFS Learning Center
Brahma Kumaris
Celestial Minds
Chinmaya Mission
CRY America
Ekal Vidyalaya
Hindu Temple of New Hampshire
Learnquest
MATH MASTER, K-12 Tutoring Center
MatScience21
Meru Foundataion
New England School of Music
New England Shirdi Sai Parivaar
Peabody Essex Museum
Pratham USA
SAT Preparation for Ivy Colleges
ShineIn Math Academy
Sri Dwarkamai
Sri Lakshmi Temple
Sree Vijaya Durga Temple
Entertainment
Boston Bhangra
MIT Chamak
Sounds of India
Finance
Darshana Patel, CPA
Kanan Sachdeva
Mortgage Master
My Tax Linx
Nila Rakhit
Sangita Joshi
Sanjay Thakkar
Shah, Dixit & Associates
Subash Agarwal
Lawyers
Monique Kornfeld, Esq.
Neil K. Sherring, Esq.
Richard Costa, Esq.
Shivani Shah, Esq.
Realtors/Mortgage
Ananth Ram
Sumathi Narayanan
Printing/Photography
Ratan Singhvi
Printing and Graphics Services
Timeless Lens Photography
Restaurants
Bollywood Grill
Hit Wicket
Masala Art
Rangoli Grill
Services
Alankar
American Visitor Insurance
Anju Pathak
B. D. Nayak, Architect
IMANE
Minuteman Group
Magic Touch Salon, Spa & Laser
NRIs Helpdesk
S4 Inc.
Shalini's Salon & Spa
Srilatha Kodali, M.D.
TiE Boston
Shopping
Elegance
Hakoba Sarees
Kay Pee Jewelers - Burlington
Koh-I-Noor Collections
Raj Jewelers
Shaadi Baazar
VastreLok