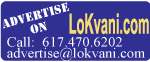 Click here for more events
Our Voice And Yours


10,000-year-old rock paintings depicting aliens and UFOs found in Chhattisgarh [more]
Lokvani Talks To Shivani Shah

(This section is sponsored by Attorney Trupti Patel)

Shivani Shah is a first generation, born and raised in Massachusetts. She did her undergraduate studies in business at Boston University and obtained a law degree from Suffolk Law. [more]
In Conversation With Janaki Subramaniam

(This section is sponsored by Stephen Campbell, Mortgage Master)

Ms. Janaki Subramaniam is an 80 year old mother, grandmother and great grandmother. A school teacher in India, Ms. Subramanium has been a teacher of Narayaneeyam to many in the Boston area. "I never realized the impact my grandmother has had on the Indian community here In Boston," says Shobha, her granddaughter, who transcribed an interview with her grandmother. [more]
Bollywood Baatein

(This section is sponsored by Monique Kornfeld, Esq.)

Ranbir Kapoor and Katrina Kaif took off for a getaway to an island off the French coast to celebrate Katrina Kaif's birthday. [more]
Little Stars Shine At Bal Manch

(This section is sponsored by Masala Art)

On 29th June, Maynard High School, Maynard, MA transformed into galaxy of little shining stars, their sparkle was felt across the New England Area. Hindi Manch which has been bringing Hindi Cultural events from past more than three years, showcased one of the most sought after events of the summer "Baal Evam Yuva Manch", where about 100 children, aged 5-15 yrs performed various acts in Hindi Language. [more]
Palkhi Celebrations Brings One Step Closer Towards The NESSP's Vision

(This section is sponsored by Kanan Sachdeva)

The NESSP family has followed in the footsteps of the devotees that started the Chavadi Procession for Baba in Shirdi by doing a Palkhi Procession in the New England area. This year Palkhi visited the homes of 160 families in Massachusetts, New Hampshire, Rhode Island, and Maine. [more]
Woman Of Influence - Shipra Shah


Sipra Shah has been active with Shishu Bharati for more than 34 years. She taught language and cultural classes for five years, and has held the position of Principal for the last 30-plus years. She talked to Lokvani about her work and her life. [more]
Naadhaamrutham – A Fulfilling Musical Evening


Gaanavaridhi conducted its this year's annual day on June 14, 2014 at Millbury High School – it had been a heartwarming experience to watch the whole event unfurl.More than 60 students of all levels – beginning to advanced – presented various krithis. [more]
An Age-old Tradition Continues!


Aani Thirumanjanam held on July 5, 2014 was a beautiful tribute to Lord Nataraja. It was held at the Shri Lakshmi Temple in Ashland. [more]
The Dancer's Pledge By Vision-Aid Is Poised To Dazzle!


The Dancer's Pledge, a stellar dance drama based on the epic Indian tale "Sivagamiyan Sabadam" will be showcased on July 27th in the Roger's Center for the Arts in North Andover. It is almost sold out. So get your tickets soon. [more]
Harvard Pilgrim Offers Eastern Harmony


Harvard Pilgrim recognizes that many consumers have needs that go beyond what insurers typically offer, which is why it developed Eastern Harmony. [more]
Figuring The Abstract In Indian Art


The Peabody Essex Museum (PEM) is pleased to present Figuring the Abstract in Indian Art, an installation of late 20th-century modernist paintings and 19th-century devotional Hindu sculptures. [more]
Shishu Bharati Early Bird Registration Now Open!


Registration for the 2014-15 academic year is now open for all three branches with new and returning students. As announced previously, there is an "Early Bird" discount of $50 per family for registration completed prior to August 1, 2014. [more]
Dwell On Dharma – An Innovative Techno-Spiritual Fund-Raising Experiment


"Dwell on Dharma" is an innovative experiment that attempts to use the power of the Internet, to deliver a well-regarded spiritual technique to the community for free, while raising funds for a charitable cause. [more]
Auditions Now Open For Hindi Manch Sa Re Ga Ma Pa


Once in a life time opportunity to sing live with Suresh Wadkar. Audition from August 1-10 for 'Hindi Manch Sa Re Ga Ma Pa', one of the most prestigious events of New England. [more]
Grand Opening Of Elegance By Divya And Roshani


Fabulous Indian Designer Clothing store "Elegance' opening in Burlington, MA! [more]
Free Fun Friday At The MFA!


What's better than a Friday in the summer? A free Friday in the summer! Visit the Museum of Fine Arts, Boston, on July 18, 2014, for tours, art, and more—all for free—during their Free Fun Friday! [more]
The 2014 Boston MetLife South Asian Spelling Bee


The MetLife South Asian Spelling Bee is in it's 7th successful year and over the years the platform has grown manifold. The Boston area Spelling Bee will be held on July 27th. [more]
2014 Vivekananda Family Camp


One of the best summertime activities for families with children ages 5-18 is the annual week long Vivekananda Family Camp in Tolland, MA organized by Vishwa Hindu Parishad of America (VHPA). The camp will be held from August 10-16, 2014. [more]
IAGB To Celebrate India Day 2014 At The Hatch Shell


IAGB will celebrate India's 68th Independence Day (India Day) at the Hatch Shell in Boston, MA on August 17, 2014 from 4 pm to 8 pm. Automatically be eligible to win a round-trip New York - India ticket on Air India. [more]
Dr. Soumitro Pal Elected President Of Bangla-O-Biswa


Dr. Soumitro Pal was elected President of Bangla-O-Biswa, a premier Bengali non-profit organization in the Boston area which held its general election on June 1, 2014 at the First United Methodist Church in Westborough, MA. [more]
President Clinton Visits Akshaya Patra's Clinton Global Initiative Commitment To Action In India


Former President Bill Clinton visited the Akshaya Patra's in Jaipur Kitchen on July 16. The kitchen, which is part of Akshaya Patra's Clinton Global Initiative (CGI) Commitment to Action, was built in 2004 and currently serves over 106,000 students in more than 1,400 schools is one of 20 such kitchens that Akshaya Patra operates across India. [more]
You Are Never Too Young To Be An Entrepreneur! Be Part Of TyE-Boston's 10th Year!


TiE Young Entrepreneurs (TyE) Boston is seeking highly motivated high school students with a passion for business and entrepreneurship! Applications are now open for the Class of 2014-15. [more]
How To Prepare Your Child For College


It's never too early for you and your child to start thinking about college. In reality, most freshmen and sophomores consider college to be far off in the distance, and don't get serious until it's too late. [more]
Passing Innovation Downstream


Long before the term' Crowdsourcing' was created, long before James Surowiecki authored the book 'Wisdom of Crowds, one professor at MIT, Eric von Hipple introduced his theory of Democratizing Innovation, a thought that would inspire today's realities like open source programming and open up fresh pathways for innovation. [more]
Cleaning Out Your Garage And Garage Sale


If your garage has become a glorified storage shed, here are 4 steps to clean it out – plus 9 tips for cleaning up at the garage sale that follows. [more]
Weekend Entertainment


Catch up, register and purchase tickets for the upcoming events and concerts including Remembering M.S. Subbulakshmi. [more]
For The Mathematically Inclined


Congratulations to Kishore Balsara, Abhimanyu Bhargava, Aseem Chandawarkar, Saroj Gandhi and Riya Misra, who were the winners of the last set of puzzles. Here are two puzzles for one and all! [more]
Cartoon: Metro Shower


Tax, Water and the Railways! [more]
Music Review: Indian Wedding Dance Songs

(This section is sponsored by Sounds Of India)

It's Indian wedding season. And it's likely you've been asked to 'do a dance' by your friend, aunt, cousin, brother, sister, mother. Well, if you're feeling stuck with selecting group or solo dance songs, no worries – here is a list for you! [more]
Laugh A While


What do you call 10 rabbits walking backwards? ... A receding hare line! [more]
Summer Time Recipes


Bhindi in Yoghurt, beetroot salad and much more... [more]
Picture Of The Fortnight


The Blue Mosque in Istanbul [more]
Thought For The Day


It is better to walk alone than with a crowd going in the wrong direction. [more]
Copyright © 2014 Lokvani.com. All Rights Reserved.
Sponsors
Harvard Pilgrim Health Care (HPHC)
Education
Akshaya Patra
America India Foundation
Apna Books
ATFS Learning Center
Celestial Minds
Chinmaya Mission
Deshpande Foundation
CRY America
Hindu Temple of New Hampshire
Learnquest
MATH MASTER, K-12 Tutoring Center
MatScience21
Peabody Essex Museum
Pratham USA
SAT Preparation for Ivy Colleges
ShineIn Math Academy
Sri Dwarkamai
Sri Lakshmi Temple
Sree Vijaya Durga Temple
Entertainment
Boston Bhangra
Somen and Lopa
Sounds of India
Finance
Darshana Patel, CPA
ijaraloans.com
Kanan Sachdeva
Mortgage Master
My Tax Linx
Nila Rakhit
Sangita Joshi
Sanjay Thakkar
Shah, Dixit & Associates
Subash Agarwal
Lawyers
Monique Kornfeld, Esq.
Neil K. Sherring, Esq.
Richard Costa, Esq.
Shivani Shah, Esq.
Trupti Patel, Esq.
Realtors/Mortgage
Ananth Ram
Sumathi Narayanan
Printing/Photography
Ratan Singhvi
Printing and Graphics Services
Timeless Lens Photography
Restaurants
Bollywood Grill
Hit Wicket
Masala Art
Rangoli Grill
Services
Alankar
Anju Pathak
B. D. Nayak, Architect
IMANE
Minuteman Group
S4 Inc.
Shalini's Salon & Spa
Srilatha Kodali, M.D.
TiE Boston
Shopping
Hakoba Sarees
Kay Pee Jewelers - Burlington
Raj Jewelers
Shaadi Baazar