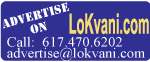 Sponsors
Dental/Medical
Billerica Medical
Flawless Dental
Education
Akshaya Patra
Chinmaya Mission
CRY America
Learnquest
MATH MASTER, K-12 Tutoring Center
Maharishi Academy of Total Knowledge
Meru Foundation
Peabody Essex Museum
Sarva Dev Mandir
Shishu Bharati
Sri Lakshmi Temple
Entertainment
Sounds of India
Finance
Analytix Solutions
Darshana Patel, CPA
Dinesh Tanna
Leader Bank/Mortgage
Nila Rakhit
Pradeep K. Audho
Satya Mitra, EA, ATA, CFP
Sangita Joshi
Lawyers
Monique Kornfeld, Esq.
Neil K. Sherring, Esq.
Richard Costa, Esq.
Shivani Shah, Esq.
Tadmor & Tadmor, LLP
Trupti Patel, Esq.
Vakili Karimi, Esq.
Realtors/Mortgage
Ananth Ram
Mortgage Partners
Raminder Bhatia
Shrenik K. Shah
Printing/Photography
Ratan Singhvi
Printing and Graphics Services
Timeless Lens Photography
Restaurants
Bollywood Grill
Mysore Veggie
Services
Alankar
B. D. Nayak, Architect
Kay Amar
Minuteman Group
Moksha Spa
S4 Inc.
Shalini's Salon & Spa
Shopping
India Palace
Kay Pee Jewelers
Raj Jewelers
Travels
Madan Travel
Lokvani Talks To Chef Prabeen Prathapan, At Taj Boston

(This article is sponsored by Attorney Trupti Patel)
Chef Prabeen Prathapan has already made significant additions to the menus at Taj Boston from special Indian dishes served in the Crown Cafe, the staff cafeteria, to Indian choices on the catering and wedding menus and a daily Indian Special dish in The Cafe. [more]
In Conversation With AVR Chowdary, G & C Global Consortium Pvt. Ltd

(This article is sponsored by Attorney Rachel C. Tadmor)
Thinking of investing in real estate in India and multiplying your wealth? Mr. Chowdary who was recently hosted by Mohan Nannapaneni talks to Lokvani about some top opportunities. [more]
Bollywood Baatein

(This article is sponsored by Monique Kornfeld, Esq.)
British-born actress Katrina Kaif has delivered six back-to-back hits, bagged several brand endorsements and is now a highly sought after heroine - all the qualities needed to be crowned the reigning actress in Bollywood. [more]
NSF National Educational Contests

(This article is sponsored by Maharishi Academy of Total Knowledge)
Shubhro Saha (CT), Senior Public Speaking; Ishita Kala (CT), Senior Essay Writing; Surabhi Iyer (MA), Junior Spelling Bee; Avvinash Radhakrishnan (NH), Senior Spelling Bee and Surabhi Iyer (MA), Junior Vocabulary were among the first place winners at the North South Foundation National Educational Contests held at MIT over the labor day weekend. [more]
A Chance To Salute Narayana Murthy - A Shining Star Of India

Akshaya Patra invites you to the annual benefit gala to honor Narayana Murthy, the founder and chairman of Infosys and a shining star of India whose accomplishments and contributions invoke in us pride for our country on September 21st at the Westin, Waltham, MA. [more]
Marathi Play - Durga Zali Gauri

The original production was released 25 years back by Avishkar Chandrashala. NEMM is proud to present a rendition, featuring 70 plus local artistes performing to the tune of local choreographers and adorning costumes designed by our very own New Englanders. [more]
English Play: The Home Coming

As its debut venture, NEAT will stage "The Home Coming" on September 20th a play based on "The Return" by Sudipta Bhawmik. In this play, Sukomal, an NRI returns to India from the United States and discovers the reality surrounding his homecoming. [more]
Madhavi Mudgal - Odissi Legend Performs In Lexington

Meru Education Foundation Inc. proudly presents renowned Odissi dancer Madhavi Mudgal at the National Heritage Museum, in Lexington, MA on Sunday, September 28, 2008 at 3:00 pm. She will be accompanied by Arushi Mudgal and musicians from India. [more]
Dream Discover Explore - NET IP

From speed dating to professional networking opportunities with keynote speeches chosen to inspire, the sold out 17th annual NetIP conference kept up its promise to allow attendees to dream, discover and explore. [more]
BAPS Celebrates Janmashtami

The halls of over 60 BAPS Mandirs around North America were buzzing with excitement this weekend as thousands of followers gathered on Sunday, August 24, 2008 to celebrate the birth of Bhagwan Shri Krishna, one of the most venerated incarnations in Hindu Dharma. [more]
Yet Another Abdul Inspires

Listening to Dr. Abdul Aziz, Vice Chancellor of Aligarh Muslim University, one felt a sense of pride and inspiration that in the recent times had been reserved for his namesake President Abdul Kalam. He was the guest of honor at an AAANE event. [more]
Padhinaru Vayadhinile - Kalia Vizha 2008

A colorful cultural bonanza was offered by the Boston Thamil Association on August 9th at the Merrimack College, North Andover, MA. The occasion was their annual art festival (Kalai Vizha). The entire gamete of the program contained rich food for entertainment, ecstasy and thought as well. [more]
The Call For Service

On September 27, 2008, citizens from every neighborhood of Boston will stand together on the Boston Common to share testimonials on the power of service in their lives and communities as part of the Boston ServiceNation Day of Action. [more]
BioTech Supply Chain Academy

The Biotech Supply Chain Academy (BioSCA) inaugural conference on September 11-12, 2008 at the South San Francisco Conference Center, is designed to provide an exclusive audience of senior-level executives with authoritative insights, best practices and market intelligence about the supply and distribution of biotechnology products. [more]
AAC-EDC Boston Area Focus Groups

The Asian American Commission - Economic Development Committee invites you to its two Boston Area Focus Groups to be held on Sep. 17 and 24 in Boston and Cambridge, respectively, as part of its needs assessment initiative of the Asian business owners. [more]
Krishna Nrityanjali At The Sri Lakshmi Temple

On Saturday, August 23, dancers from the various dance schools in the area convened and presented a lovely program of enchanting dances in various styles as their offering of love to Lord Krishna. [more]
Indology Series II - The Historicity Of Rama

The Ramayana of Valmiki is the oldest work which gives the story of Rama. According to the German Indologist H. Jacobi, Valmiki composed the Ramayana somewhere between the 8th and 6th century B.C. but these dates bear no resemblence to other evidence of the actual occurance of the epic. [more]
Weekend Entertainment

Catch up, register and purchase tickets for the events during this upcoming fortnight including Mysore Brothers, Pratham Boston Gala, Akshaya Patra Gala and Fundraiser, Madhavi Mudgal Concert, Indian Ocean Live in Concert, Krishna Bhakti Mala, Pandit Jasraj Concert, The Dhananjayans and Anish Kapoor Exhibition. [more]
For The Mathematically Inclined

Congratulations to Siddharth Annaldasula, Vishnu Chavva, Dhruv Ramanujan, Mukund Seshadari, Muneeba Syed and Niharika Yerneni who were winners of the last set of puzzles. Here is one easy puzzle for students and one for adults. [more]
Music Review - Karzzzz

(This article is sponsored by Sounds Of India)
Himesh Reshammiya's Aap Ka Saroor had created quite a stir in the music industry and if you liked Aap Ka Saroor, Karzzzz will not disappoint. [more]
Cartoon: Sleeveless Kapri Outfit

What a outfit! sleeveless, kapri.., ath aanee size bindiya on forehead and 30" long mangalsutra in the neck! [more]
Recipes - From Chef Prathapan Of Taj Boston

Chef Prabeen Prathapan featured in this issue shares a Prawn Curry recipe with Lokvani. [more]
Laugh A While - Jokes

A Desi Speech to the Core [more]
Shopping And Deals

Laptops, MP3 Players, Bluetooth headsets... We have a few deals for you. [more]
Picture Of The Fortnight

Scenic view of Florence. [more]
Thought For The Day

On the subject of Contentment. [more]
Copyright © 2008 Lokvani.com. All Rights Reserved.
Lokvani Poll
Who will you vote for in the 2008 elections?

More Events