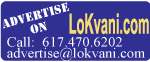 Sponsors
Dental/Medical
Billerica Medical
Flawless Dental
Education
Akshaya Patra
Baby Hindustani
Chinmaya Mission
CRY America
Learnquest
MATH MASTER, K-12 Tutoring Center
Maharishi Academy of Total Knowledge
Peabody Essex Museum
Entertainment
Sounds of India
Finance
Darshana Patel, CPA
Dinesh Tanna
Leader Bank/Mortgage
Nila Rakhit
Platinum Insurance
Pradeep K. Audho
Satya Mitra, EA, ATA, CFP
Sangita Joshi
Lawyers
Monique Kornfeld, Esq.
Neil K. Sherring, Esq.
Richard Costa, Esq.
Shivani Shah, Esq.
Tadmor & Tadmor, LLP
Trupti Patel, Esq.
Vakili Karimi, Esq.
Mortgage
Accurate Mortgage
Mortgage Partners
Shrenik K. Shah
Printing/Phototgraphy
Ratan Singhvi
Printing and Graphics Services
Timeless Lens Photography
Realtors
Ananth Ram
Asha Shukhla
Laroia Realty
Raminder Bhatia
SmartMoves
WestOfBoston
Swati Mukherji
Restaurants
Bollywood Grill
Mysore Veggie
Services
Alankar
B. D. Nayak, Architect
epuja
Minuteman Group
Moksha Spa
Shalini's Salon & Spa
Shopping
India Palace
Kay Pee Jewelers
Raj Jewelers
Travels
Madan Travel
Lokvani Talks To Dilip Mathur

(This article is sponsored by Attorney Trupti Patel)
"Investing $1000 can create employment for one individual in India for a lifetime," says Dilip Mathur of Lexington, MA who was CEO of a semiconductor equipment company in the USA in the 80s and until recently was helping the development of a manufacturing company in India. He talked to Lokvani about his ideas on micro-business for poor people and also about Chinmaya Mission Boston of which he is a Trustee. [more]
In Conversation With Shrila Bhakti Swarup Tirtha Maharaj

(This article is sponsored by Attorney Rachel C. Tadmor)
"Christianity and Vaishnavism are similar in that they believe in God having a human like form," says Shrila Maharaja, an Acharya who believes in the Gaudiya Vaishnava Philosophy. He talked to Lokvani about some of the underlying ideas of this philosophy which has been popularized in the past century by A.C. Bhakthivedanta Swami Prabhupada. [more]
Bollywood Baatein

(This article is sponsored by Monique Kornfeld, Esq.)
Very few people turn down Aamir Khan. Do you know who is the actress in the picture and why she turned down the offer to act with Aamir? [more]
LearnQuest Conference 2008 Regales New England Music Lovers

(This article is sponsored by Maharishi Academy of Total Knowledge)
Music lovers were treated to five days of Indian Classical musical performances organized by LearnQuest Academy of Music in co-sponsorship with MITHAS (MIT Heritage of Arts of South Asia) and Museum of Fine Arts, Boston from April 9th to April 13th. [more]
South Asian Art - In Memory Of Prashant H. Fadia

(This article is sponsored by Prashant H. Fadia Foundation)
Patriotism And Commemoration In A Bengali Embroidery
Embroideries made in Bengal were exported to Portugal in large numbers during the sixteenth and seventeenth centuries. The fine needlework is of great virtuosity; using only a single type of stitch, the embroiderers filled all available space with a multitude of mammals, birds, reptiles, insects, crustaceans, as well as mythological beasts in dense vegetation. [more]
Zakir Hussain And Masers Of Indian Percussion

World Music presents Zakir Hussain & Masters of Indian Percussion on Saturday, May 10, 8pm at Sanders Theatre, 45 Quincy Street, Cambridge. [more]
Evolving Traditions - A Celebration Of Dance And Music

On April 5th, Evolving Traditions featured Malini Srinivasan, a NY-based dancer and choreographer, and Prasant Radhakrishnan, a Carnatic Saxophonist based in CA as well as local artists Jothi Raghavan and Sujatha Vijayaraghavan. [more]
Mother - Daughter Recital: A Special Treat

New England star Carnatic vocalist Geetha Murali gave a concert at the Learnquest Music conference. She was accompanied by her young daughter Rasika who clearly established herself as a very talented accompanist. [more]
Connecting Cultures Through Divine Rhythms

On Sunday, April 13, 2008, the Triveni School of Dance in Brookline, Massachusetts, presented a showcase of classical Indian dance items by Neena Gulati, Triveni's founder and principal instructor, and her senior, professional-caliber students. [more]
Ramayana - A Visual Journey

Do not miss this unique live dance drama on "Ramayana" hosted by Vision AID and presented by Ranjani Saigal and a talented team of artists on Saturday May 31st at 3p.m. in Lexington, MA. The story of the Ramayana will be danced using the works of Valmiki, Kamban, Tulasidas, Thiagaraja and others in seven Indian languages strung together using English narration. All funds go to Vision AID which helps the underprivileged visually challenged people in India. [more]
From Bollywood To Hollywood At TiECON East

TiE Boston is tackling the issue head on at its annual flagship conference by having a powerful track on "Leveraging India's Growth" where the media and entertainment industry will be discussed at length. Seats are limited and discounts expire soon. At the Westin in Waltham on May 29-30, 2008. [more]
Living Through Breast Cancer Survivorship Conference

Enroll now for the ALL expense paid 2008 Knowledge, Strength & Grace: Living Through Breast Cancer Survivorship Conference in New Hampshire from June 8-10, 2008. [more]
2008 NSF MA Regional Education Bees

Everyone of the 500+ who participated in an NSF Bee is a winner since they learn something new every time they participate. NSF contests are a journey. Congrats to everyone who embarked and/or continued on this journey this April. [more]
Divine Knowledge Of Vedas And Vedic Scriptures

As part of the enlightening series of discourses on Divine Knowledge of Vedas and Vedic Scriptures organized by Neelu Sharma at the Sarva Dev Mandir in Oxford, MA, Siddeshvari Devi Ji discussed Mind: Best Friend or Worst Enemy and Guru. [more]
IAFPE Political Internship Fundraiser

Indian American Forum for Political Education invites you to an exciting event of College Students Political-Internship-Program Award Ceremony on May 3rd at 11:30 am with Honorable Mr. Timothy Murray as the Keynote Speaker. [more]
Asian American Unity Dinner Gala

The Massachusetts Asian American Commission Cordially Invites you to the 2nd Asian American Unity Dinner Gala at Sheraton Boston Hotel on May 10th. [more]
Vedic Language And Literature & Indian Poetry Reading

Poets of all ages are invited to read original compositions or share segments of classical literature at the annual poetry reading at Harvard University. Compositions and readings in all languages are invited. Also attend a talk on Vedic language by Dr. Susan Rosenfield. [more]
Second Boston Telangana Night A Grand Success

Telangana Folk Songs, Music and dances reverberate second Boston Telangana Night. [more]
Mahalingam-Dhingra, Rao And Shah Named Presidential Scholar Semifinalists

Aditya Mahalingam-Dhingra (MA), Suhas Rao (MA) and Ruchir Shah (RI) have been named as three of the approximately 560 semifinalists in the 2008 Presidential Scholars Program. [more]
Innovators In Health -Addressing The Challenges Of Treating TB

Since winning the contest last year, Manish and his team have forged ahead with their idea, starting a venture called "Innovators in Health" and refining the design with over nine iterations of the pillbox prototype. [more]
Maharishi Vedic Organic Agriculture For A Healthier World

Everyone wants good health. Your body's health is a reflection of the quality of food you eat, so perhaps you eat healthier foods, whole foods, and organic foods in an effort to maintain your health. [more]
Letting Go

The art of leaving from inside to out is such that it only enables us to let go of that which is outside of us, but builds such strength as to avoid being trapped by it in the first place. [more]
Weekend Entertainment

Catch up, register and purchase tickets for the events during this upcoming fortnight including Zakir Hussain Concert, Art of Living Course, T.N. Krishna Concert, TiECON East 2008, Ramayana - A Visual Journey, Ranjani Shettar Exhibition and Artistic Exchange Between India and Portugal. [more]
For The Mathematically Inclined

Congratulations to Anindya Basu, Aseem Chandawarkar, Kiruba Dharaneeswaran, Manish Goregaokar, Shailesh Goregaokar, Roopesh Mathur, Prabhakar Nadkarni, Hari Pillai and Niharika Yerneni, who were winners of the last set of puzzles. Here is one easy puzzle for students and one for adults. [more]
Music Review - Tashan

(This article is sponsored by Sounds Of India)
The music of Tashan is mostly fun and frolic and is basically a potpourri of styles and beats and most tracks tend to be on the faster side with no special emphasis on pure melody or meaningful lyrics. [more]
Book Review -The Children Of Shahida

The Children of Shahida is three stories in one, told through the eyes of three men each from a different generation - Rashid (the grandfather), Bashir (the son) and Tyeb (the grandson). [more]
Recipes - Fish!

You dont have to FISH for compliments for these dishes. Share some of your own favorites. [more]
Laugh A While

It is time to go fishing! [more]
Picture Of The Fortnight

Asmita Parekh, Kathy Sweeney, Meena Motwane, Gopala Krishnan, Ban Kapur, Maya Kellar and Nalini Vyas guessed the picture right as the Golden Temple in Amritsar.
Can you guess this one. [more]
Thought For The Day

(This article is sponsored by epuja)
What is success in Life measured by? A profound thought from Ralph Waldo Emerson. [more]
Copyright © 2008 Lokvani.com. All Rights Reserved.
Lokvani Poll

Who will you vote for in the 2008 elections?


Click here for more events