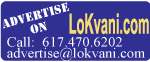 Sponsors
Dental/Medical
Billerica Medical
Flawless Dental
Education
Baby Hindustani
Chinmaya Mission
CRY America
Learnquest
MATH MASTER, K-12 Tutoring Center
Maharishi Academy of Total Knowledge
Peabody Essex Museum
Entertainment
Sounds of India
Finance
Darshana Patel, CPA
Dinesh Tanna
Leader Bank/Mortgage
Nila Rakhit
Platinum Insurance
Pradeep K. Audho
Satya Mitra, EA, ATA, CFP
Sangita Joshi
Lawyers
Monique Kornfeld, Esq.
Neil K. Sherring, Esq.
Richard Costa, Esq.
Shivani Shah, Esq.
Tadmor & Tadmor, LLP
Trupti Patel, Esq.
Vakili Karimi, Esq.
Mortgage
Accurate Mortgage
Mortgage Partners
Shrenik K. Shah
Printing/Phototgraphy
Ratan Singhvi
Printing and Graphics Services
Timeless Lens Photography
Realtors
Ananth Ram
Asha Shukhla
Dilip & Sara Varghese
Laroia Realty
Raminder Bhatia
SmartMoves
WestOfBoston
Swati Mukherji
Vimi Verma
Restaurants
Bollywood Grill
Mysore Veggie
Services
Alankar
B. D. Nayak, Architect
epuja
Minuteman Group
Moksha Spa
Shalini's Salon & Spa
Shopping
Bashas Rugs
India Palace
Kay Pee Jewelers
Raj Jewelers
Travels
Madan Travel
Lokvani Talks To Shalini Patta

(This article is sponsored by Attorney Trupti Patel)
The Shalini's Beauty Salon and Spa of Shalini Patta located in Westborough, attracts many bridal and special occasion customers. [more]
In Conversation With Sarav Chithambaram

(This article is sponsored by Attorney Rachel C. Tadmor)
Producer of the documentary, "Its my life - A South Asian Queer Story in America" Chithambaram talked to Lokvani about his film and the challenge of being a member of the South Asian GLBT community. [more]
Bollywood Baatein

(This article is sponsored by Monique Kornfeld, Esq.)
Sanju Baba ties the knot! Tabu and Abbas re-unite after 12 years. And we have videos for you. [more]
A Jugalbandi Of Bharata Muni And Gregor Mendel At MIT

(This article is sponsored by Maharishi Academy of Total Knowledge)
MIT Natya's Dancing Nature's Art (an obvious play of words on 'DNA'), unfolds on the stage into a rich, visually spectacular drama that entices the hitherto casual, perhaps curious, viewer into the realms of wondrous and tasteful fusion - of Art and Science. Mohini Jangi, Amrita Saigal, Amrita Karambelkar and others were part of the production. [more]
South Asian Art - In Memory Of Prashant H. Fadia

(This article is sponsored by Prashant H. Fadia Foundation)
Art is the way!
There is no way to art. Art is the way. 'The Way' is the term used in the philosophy of Tao to symbolize 'The God'. In this way, art, for Awadhesh Misra, is not the way of talking but the way of living. [more]
Pratham Boston And TASA Present Penn Masala

The fund-raising event on February 9th was attended by more than 400 people, mostly students and enthusiastic music fans. Pratham is India's foremost NGO focused on eradicating illiteracy and thus poverty by providing education skills to under-privileged children. [more]
From The Heart Of A Tradition: Aniruddha In Performance

The Asian Arts & Culture Program, University of Massachusetts, Amherst presents Aniruddha Knight and Ensemble in a stunning dance concert with live music on Sunday, March 2 at 4 pm in Bowker Auditorium, UMass. [more]
Children Showcased Talents At NETS Pongal Vizha 2008

Pongal, the ancient festival of the Tamils was celebrated with pomp and splendor, with about 100 kids displaying their vivid talents in fine arts at the New England Tamil Sangam's Pongal Vizha 2008 held at the Littleton High School Auditorium, Littleton on Saturday, February 2nd. [more]
Many Kids Attend IANH/NSF Math Workshop 2008

IANH conducts math workshop in Nashua, NH to help students prepare for the upcoming education bees. [more]
TiEWIN Launches The 2008 Series With- 5 Secrets Of Business

Catherine White and Indu Isaacs offered plenty of tips about running a business at TiEWIN hosted by TiE Boston [more]
Kashmiri Language And Literature

Lalit Koul presented a fascinating overview of the origin, development and writing systems of Kashmiri Language, discussed its rich literature and the challenges it is facing in present times at Harvard University. [more]
GCOF / IITSINE Ski Trip

IIT Madras and IITSINE invite you and your family for a fun filled day to a ski, snowboard, cross-country ski and snow shoe trip at Waterville Valley, NH on March 1st. [more]
Leader Bank Opens Fourth Branch In Belmont

Leader Bank opened its fourth branch at 363 Pleasant Street in Belmont, MA on February 20, 2008 with State Treasurer Timothy P. Cahill as the guest of honor in the ribbon cutting ceremony. [more]
Indian Community In Connecticut Felicitates Dr. Thomas Abraham

Dr. Thomas Abraham, recipient of the prestigious awards, Pravasi Bharatiya Samman and Bharatvanshi Gaurav Award this year, was feliciated by the Indian American community, during a special event organized in his honor by GOPIO-CT Chapter at the Stamford Hamton Inn, Stamford, CT on February 15th, 2008. [more]
Are All Forms Of Meditation Equally Effective?

Even though it is often believed that all techniques of meditation and relaxation are equally effective, it has been scientifically shown that some techniques, ironically, increase stress. [more]
The Spiritual Significance Of Shivratri

Maha Shivaratri is on March 6th. On this day, devotees visit Shiva temples to offer leaves of bel upon the Shiva linga, observe fast and keep awake all night as a mark of their devotion to God Shiva. Read this article to learn more about the festival and its significance. [more]
Young Entrepreneurs Alliance - An Idea That Works

"YEA is driven by a singular premise: that the hands-on experience of owning and running their own business will unlock the talents of teens from all walks of life," says Julie Nessen, founder of this unique social enterprise. [more]
Opinion: Why I Am Supporting Hillary?

Dr. Purnima Sangal shares her reasons for supporting Hillary Clinton for President. [more]
Diwali To Be Proclaimed As One Of Utah State Festivals

Utah is the only State in USA where Diwali has been celebrated in Governor's mansion for the last three years. [more]
Weekend Entertainment

Catch up, register and purchase tickets for the events during this upcoming fortnight including Hindu American Foundation Awareness Campaign Lunch, Family Ski Trip, Aniruddha in Performance, Art of Living Course, Uday Bhawalkar Concert and IITSINE Annual Social. [more]
For The Mathematically Inclined

Congratulations to Sitaram Chandawarkar, Somnath Chattopadhyay, Venki Nagesha, Mukund Seshadri and Niharika Yerneni, who were the winners of the last set of puzzles. Here is one easy puzzle for students and one for adults. [more]
Music Review - Sunday

(This article is sponsored by Sounds Of India)
With an array of music directors including Sandeep Chowta, Suroor, Daler Mehndi, Shibani Kashyap, Raghav Sachar and Amar Mohile, Sunday is quite an outstanding piece of music. [more]
Recipes - From Sandwiches To Potatoes

Here is 'THE' Elvis Presley sandwich! Hey What is that? Click here to find out. Supriya Raman contributes. [more]
Book Review - Intern: A Doctor's Initiation By Sandeep Jauhar

The stories of both the patients and students were touching, infuriating, heartwarming and tearful. They explain clearly the emotional and physical roller-coaster these (sleep-deprived in most cases) students must traverse through if they ever hope to reach their desired objective. [more]
Laugh A While - Jokes

Laugh a while! Why do we have George Clooney in the photo? Read on! [more]
Picture Of The Fortnight

One of the greatest engineering works in history, which transformed the American Southwest. [more]
Thought For The Day

(This article is sponsored by epuja)
Inspirational saying from the Vedanta. [more]
Copyright © 2008 Lokvani.com. All Rights Reserved.
Lokvani Poll

Who will you vote for in the 2008 elections?


Click here for more events