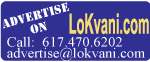 Sponsors
Dental/Medical
Billerica Medical
Flawless Dental
Education
Baby Hindustani
Chinmaya Mission
CRY
Learnquest
MATH MASTER, K-12 Tutoring Center
Maharishi Academy of Total Knowledge
Peabody Essex Museum
Entertainment
Sounds of India
Finance
Darshana Patel, CPA
Dinesh Tanna
Leader Bank/Mortgage
Nila Rakhit
Platinum Insurance
Pradeep K. Audho
Satya Mitra, EA, ATA, CFP
Lawyers
Monique Kornfeld, Esq.
Neil K. Sherring, Esq.
Richard Costa, Esq.
Shivani Shah, Esq.
Tadmor & Tadmor, LLP
Trupti Patel, Esq.
Vakili Karimi, Esq.
Mortgage
Accurate Mortgage
Mortgage Partners
Shrenik K. Shah
Printing/Phototgraphy
Collagist
Ratan Singhvi
Printing and Graphics Services
Timeless Lens Photography
Video By Roland
Realtors
Ananth Ram
Asha Shukhla
Dilip & Sara Varghese
Laroia Realty
SmartMoves
WestOfBoston
Swati Mukherji
Vimi Verma
Restaurants
Bollywood Grill
Mysore Veggie
Services
Alankar
B. D. Nayak, Architect
Darshan Thakkar
epuja
Minuteman Group
Moksha Spa
Shopping
Bashas Rugs
India Palace
Kay Pee Jewelers
Raj Jewelers
Travels
Madan Travel
Lokvani Talks To Mool Raj And Kanti Mathur

(This article is sponsored by Attorney Trupti Patel)
"If you can give two minutes of solace to your fellow beings then you will always be at peace, for you have served God's creations albeit for an instant," said my father and that has been my life's motto says Mool Raj Mathur who was one of the founding members of United India Association. He and his wife talked to Lokvani about their 50 years in the US. [more]
In Conversation With Kumkum Sanyal

(This article is sponsored by Attorney Rachel C. Tadmor)
Mrs. Kumkum Sanyal, a Hindustani vocalist has been a Boston area resident for almost a decade. She has won recognition not only as a versatile performer but has made her mark as a teacher who trains with rigor and sets high expectations for her students. [more]
Bollywood Baatein

(This article is sponsored by Monique Kornfeld, Esq.)
Shilpa Shetty is quite perturbed that the makers of her 2005 superhit Kannada film 'Auto Shankar' are all set to release a dubbed Hindi version called 'Shilpa - The Big Don'. [more]
American India Foundation's First Benefit Gala A Grand Success

(This article is sponsored by Maharishi Academy of Total Knowledge)
Under the dynamic leadership of the Boston AIF Leadership Council, the First Annual Benefit Gala of AIF was a terrific success raising considerable money and community spirit all in one splendid evening of fun and entertainment. Nobel Laureate Amartya Sen, Victor Menezes, Desh Deshpande, Pradeep Kashyap, Raj Sharma, Venkat Srinivasan, Amar Sawhney headlined the elegant event. [more]
South Asian Art History - In Memory Of Prashant H. Fadia

(This article is sponsored by Prashant H. Fadia Foundation)
Pattachitras - Mythology on Canvas
Painted by special temple artists, locally known as chitrakars, these paintings are painted afresh every year and discarded after use. These paintings are known as 'chitrapatis', a short form of the word 'pattachitra' which essentially means 'painting on a cloth' (pata meaning cloth and chitra meaning a drawing). [more]
An Unequal Music

Leading Carnatic vocalist and musicologist, T.M.Krishna writes about the discrimination against women in the Carnatic music fraternity. [more]
Where Jazz Meets Kathak

Natraj presented their first collaboration with classical kathak dance dancer Gretchen Hayden at Springstep in Medford, MA. [more]
NETS Kalai Vizha 2007

Harmonious music, fun and laughter filled the air of the Keefe Technical School auditorium, Framingham, MA, on Saturday, November 17, 2007 where the New England Tamil Sangam held its Kalai Vizha. Over 150 people attended the show and enjoyed the evening. [more]
Nashua Nukes Wins 2007 New England Cricket League Tournament

Defending champions Nashua Nukes won the 2007 New England Cricket League (NECL) Invitation Tournament for the second consecutive year. They beat Nashua Spearheads by 6 wickets and maintained their dominance in the Nashua area. [more]
India Day At Acton Library

Colorful costumes, graceful dances, henna, Madhubani painting, Yoga and a wonderful Ramayana puppet show made for a wonderful exposition of Indian culture at the Acton Public Library. [more]
South Asian Beauty Queens

Everyone witnessed a star-studded Red Carpet gala here onboard the prestigious ship Queen Mary on November 16th, as the who's who of South Asians in Hollywood and world beauty queens were seen greeting fans, posing for pictures, and participating in interviews. [more]
IAFPE To Hold Panel Discussion And Elect New Office Bearers

The Massachusetts Chapter of Indian American Forum for Political Education is holding its Annual Meeting in Cary Memorial Library, Lexington MA (1874 Mass Ave, Lexington) on Sunday, December 16th from 2-5 pm. [more]
Sa Re Ga Ma Pa Challenge 2007 World Tour

Watch Raja, Aneek, Mussarat, Harpreet, Junaid, Poonam, Mauli and Sumedha Live at the Sa Re Ga Ma Pa Challenge 2007 World Tour on December 21, 2007. [more]
Nagagopal Venna, MD, Of Boston Receives The Prestigious Brian McGovern Award

Dr. Nagagopal Venna, MD, MRCP (I), MRCP (UK) was recently honored with the Brian McGovern Award for Clinical Excellence at the Annual Physician Recognition Dinner of The Massachusetts General Physicians Organization and attended by about 600 physicians. [more]
Living, Working, And Learning About Development In India

International development. This is a term we hear tossed around vaguely in the news, on television, in social gatherings or academic circles. It was not until I spent seven weeks of my summer living and working in it that I realized I am only beginning to understand this complex social phenomenon. - Puja Sripad. [more]
Consciousness-Based Education Develops The Whole Student

An educational system that includes the TM technique in its curriculum is called "Consciousness-Based education." Consciousness-Based education teaches intellectual knowledge, and it also expands the student's container of knowledge through the practice of the Transcendental Meditation program. [more]
Boston: City For The 21st Century

Boston has been long regarded as the walking city of America. With its tightknit residential neighborhoods, its boulevards lined with cafes, shops, and parks, makes Boston one of the best cities for a stroll. [more]
STROKE: Remember The 1st Three Letters.... S.T.R.

Thank God for the sense to remember the "3" steps, STR - Smile, Talk and Raise Arms. Read and Learn how to recognize a stroke! [more]
Brahmacharya (Celibacy)

Lord Ayyappa says "Brahmacharya or spotless chastity is the best of all penances; a celibate of such spotless chastity is not a human being, but a god indeed... [more]
Poem: Split In Half

I Walked Through The Airport
Officer Asks My Entry Port
Stamps My Passport
And Calls Me An Immigrant [more]
Weekend Entertainment

Catch up, register and purchase tickets for the events during this upcoming fortnight including George Rucket/Gretchen Hayden concert, Sa Re Ga Ma Pa Challenge 2007 World Tour, Shirdi Sai Temple Inauguration and Sarva Dev Mandir New Year Eve's Party. [more]
For The Mathematically Inclined

Congratulations to Anindya Basu, Manish Goregaokar, Shailesh Goregaokar and Niharika Yemeni, who was the winner of the last set of puzzles. Here is one easy puzzle for kids and one for adults. [more]
Music Review: Aaja Nachle

(This article is sponsored by Sounds Of India)
For a film that has Madhuri Dixit back on screen after five years and with big hype on music and dance, one would have expected a musical extravaganza - where the music would hit the listener with a bang. [more]
Recipes - W Is For Walnuts

Walnuts! Nutrageous recipes for you to try for the holidays. [more]
Laugh A While

Q: Ever wonder why the IRS calls it Form 1040?
A: Because for every $50 that you earn, you get $10 and they get $40. [more]
Photo Of The Fortnight

St. Andrews Cathedral in Scotland! [more]
Thought For The Day

(This article is sponsored by epuja)
B.K.S. Iyengar is one of the most prominent yogis in the world and has gained international fame with his signature style of Iyengar Yoga, which he brought to the West in 1952 - His quotes. [more]
Copyright © 2007 Lokvani.com. All Rights Reserved.
Click here for more events