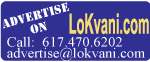 Sponsors
Dental/Medical
Billerica Medical
Flawless Dental
Education
Baby Hindustani
Chinmaya Mission
CRY America
Learnquest
MATH MASTER, K-12 Tutoring Center
Maharishi Academy of Total Knowledge
Peabody Essex Museum
Entertainment
Sounds of India
Finance
Darshana Patel, CPA
Dinesh Tanna
Leader Bank/Mortgage
Nila Rakhit
Platinum Insurance
Pradeep K. Audho
Satya Mitra, EA, ATA, CFP
Sangita Joshi
Lawyers
Monique Kornfeld, Esq.
Neil K. Sherring, Esq.
Richard Costa, Esq.
Shivani Shah, Esq.
Tadmor & Tadmor, LLP
Trupti Patel, Esq.
Vakili Karimi, Esq.
Mortgage
Accurate Mortgage
Mortgage Partners
Shrenik K. Shah
Printing/Phototgraphy
Ratan Singhvi
Printing and Graphics Services
Timeless Lens Photography
Realtors
Ananth Ram
Asha Shukhla
Dilip & Sara Varghese
Laroia Realty
Raminder Bhatia
SmartMoves
WestOfBoston
Swati Mukherji
Vimi Verma
Restaurants
Bollywood Grill
Mysore Veggie
Services
Alankar
B. D. Nayak, Architect
epuja
Minuteman Group
Moksha Spa
Shalini's Salon & Spa
Shopping
Bashas Rugs
India Palace
Kay Pee Jewelers
Raj Jewelers
Travels
Madan Travel
Lokvani Talks To Arti Pandey On Barakat, Inc.

(This article is sponsored by Attorney Trupti Patel)
As a matter of fact, in the coming years we envision a much greater role for Barakat in India, where the political and social atmosphere for growth is much more conducive to our development. The need in India is immense too, and the benefits of women's education are far-reaching as research has shown - Arti Pandey. [more]
In Conversation With Al Jagannath

(This article is sponsored by Attorney Rachel C. Tadmor)
Al Jagannath is a retired engineer and has begun coaching students and adults in Tennis. While in India, he played Cricket for India along with famous names like: Sunil Gavaskar, Madan Lal, Dilip Doshi, Prasanna, Viswanath, Chandrasekar, just to name a few. He came to this country in 1981 and the absence of cricket led to playing Tennis. Al shares his passion for the game and his plans as a coach to Lokvani. [more]
Bollywood Baatein

(This article is sponsored by Monique Kornfeld, Esq.)
Aishwarya Rai Bachchan is willing to share her journey of life with her fans all over the globe. We hear that Ash is all set to write her biography with the help of her mother, Vrinda Rai. [more]
SABA Felicitates Navjeet Bal And Sunila Thomas-George

(This article is sponsored by Maharishi Academy of Total Knowledge)
Over 150 guests including the former Massachusetts's governor were present at the South Asian Bar Association reception held to honor Navjeet Bal and Sunila Thomas-George. [more]
South Asian Art - In Memory Of Prashant H. Fadia

(This article is sponsored by Prashant H. Fadia Foundation)
The popularity of Jodha Akbar has aroused the curiosity about Emperor Akbar. A connoisseur of art and a promoter of religious tolerance, this Emperor brought artisans of different religious backgrounds to work together and lay the seeds for a new direction in art termed by historians as Mughal Art. [more]
Students Compete For $1000 NEHTI Scholarship

Over 100 dancers participated in this year's Nrityanjali celebration at the Sri Lakshmi temple in Ashland. The event had a new dimension with a dance competition for a $1000 scholarship. Shivani Shrivastav won the competition. The scholarship was funded by Harish Dang.[more]
MITHAS Spring 2008 Series

MITHAS inaugurates its 2008 Spring Concert Series on March 22nd with a Dhrupad Vocal performance by Uday Bhawalkar at Stata Auditorium, MIT at 4 pm and introduces a new membership plan. [more]
LearnQuest Hosts Indian Classical Music Conference 2008

LearnQuest presents Pandit Hariprasad Chaurasia, Dr. Prabha Atre, Aruna Sairam, Gundecha Brothers, O. S. Tyagarajan, Shujat Khan and others at part of a 5-day conference from April 9-13. Early bird discounts expire March 20th! [more]
Bharatanatyam Lecture-demonstration By Sunanda Narayanan

The South Asia Initiative at Harvard University presents an introduction to Bharatanatyam and dance items drawn from traditional, contemporary, and modern literature by Sunanda Narayanan on Friday March 14th at 7 pm. [more]
HAF Hosts Its First Succesful Hindu Awareness Campaign Fundraiser In Boston

On February 27, the Hindu American Foundation (HAF) and Sheetal Shah hosted its first ever Hindu Awareness Campaign Fundraiser in Boston. One of its missionis is to educate media as a result of the 2005 article in San Francisco Chronicle which stated that Hindus believe in rape as a just punishment for some crimes. [more]
PEM Celebrates The Art And Culture Of India With Atrium Alive

On March 14, 15 and 16, the Peabody Essex Museum welcomes the colorful sights and sounds of Holi, India's annual spring festival, with an array of exciting programs. Atrium Alive: India features traditional arts, contemporary women, artist demonstrations, music performances, film screenings and hands-on art activities for the entire family. Highlights include Anita Ratnam, one of India's leading dance icons, and a screening of the award-winning film Vanaja. [more]
Seeking Capital Or Advice? Come To The Entrepreneur Forum At TiECON East

Facebook! LinkedIn! Craig's List! Google! Health 2.0! Web 2.0, Bollywood! Leveraging India's Growth! Hot trends that will be the focus of TiECON East 2008 to be held at the Westin Hotel in Waltham on May 29-30. [more]
Seasonal Wellness: Doctors Upasani And Belok To Speak At Boston Luncheon

Vaidya Upasani Vishwanath Vishnu and Dr. Steele Belok will speak about Seasonal Wellness at the meeting of the New England Association of Professionals Practicing the Transcendental Meditation® Program on March 20 at 11:30 am at the Copley Place Legal Sea Foods Restaurant in Boston. [more]
Celebrating International Women's Month - Saheli

In this column, we give you a glimpse of the work of Saheli. Saheli, Friendship for South Asian Women is a group dedicated to helping South Asian women in Boston and the neighboring areas. [more]
Boston City Hall Showcases India And Its Culture

On February 28th, 2008, under the auspices of Mayor Menino, City of Boston's Office of New Bostonian and Cultural Awareness Committee held an event showcasing India and its culture. [more]
Indicorps Seeking Applicants For Its Fellowship Program

Gagan Rana left a lucrative position at JPMorgan in Southern California to serve as an Indicorps Fellow. Find out how you can use your professionalism and leadership skills while making a difference! [more]
Pratham - Summer Internship Opportunity

Pratham, a leading Indian Non-Governmental Organization, seeks Research Assistants to work on a variety of projects in one of its Indian offices. [more]
What Is Micro Finance?

Micro finance is the extension of small loans to entrepreneurs too poor to qualify for traditional bank loans and is generally based on a philosophy of group based lending. [more]
Is The Intrinsic Value Of Housing Down Or Is Just Its Price Down?

While the obvious economic concerns in Massachusetts are the state's housing slump, the Boston regional economy performed well in 2007. City of Boston's condo prices increased by 7.4% in 2007 relative to 2006 while the median price of single family home remained unchanged during the same period. [more]
Weekend Entertainment

Catch up, register and purchase tickets for the events during this upcoming fortnight including Atrium Alive, Transcendental Meditation, Uday Bhawalkar Concert, Art of Living Course, Vasant Vilas Odissi Dance, IITSINE Annual Social and LearnQuest Music Conference. [more]
For The Mathematically Inclined

Congratulations to Mukkai Krishnamoorthy, Roopesh Mathur and Ranganath Nayak, who were the winners of the last set of puzzles. Here is one easy puzzle for students and one for adults. [more]
Music Review - KRAZZY4

(This article is sponsored by Sounds Of India)
After the success of KRRISH, Rajesh Roshan has yet another "K" offering in KRAZZY 4 which has a couple of potential chartbusters. The movie is the first major comical extravaganza of the year and if the track is any sign, the movie promises to be an all-round entertainer. [more]
Book Review: Svaranjini And Svaraangini

The beautifully hard bound books feature musical compositions in more than 90 ragas which are written in Hindi. The books also feature more than 20 semi-classical Thumri, Dadra and Bhajan compositions. [more]
Film Review - Jodha Akbar

The grandeur of the past, a whiff of history, the reliving of legendary battles and epic romance comes to the viewer in the form of Jodha Akbar. [more]
Recipes - March Madness

Time for Soups! [more]
Jokes - Laugh A While

Following are some of the typical Indian English..... [more]
Picture Of The Fortnight

Ladakh is a mountainous region in North-West India and in the area known as the Trans-Himalaya, (the lands beyond the Himalaya: Tibet, Xinjiang and some of northern Pakistan. [more]
Thought For The Day

(This article is sponsored by epuja)
A wise saying from M.K. Gandhi. [more]
Copyright © 2008 Lokvani.com. All Rights Reserved.
Lokvani Poll

Who will you vote for in the 2008 elections?


Click here for more events