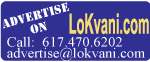 Sponsors
Dental/Medical
Billerica Medical
Flawless Dental
Education
Baby Hindustani
Chinmaya Mission
CRY America
Learnquest
MATH MASTER, K-12 Tutoring Center
Maharishi Academy of Total Knowledge
Peabody Essex Museum
Entertainment
Sounds of India
Finance
Darshana Patel, CPA
Dinesh Tanna
Leader Bank/Mortgage
Nila Rakhit
Platinum Insurance
Pradeep K. Audho
Satya Mitra, EA, ATA, CFP
Sangita Joshi
Lawyers
Monique Kornfeld, Esq.
Neil K. Sherring, Esq.
Richard Costa, Esq.
Shivani Shah, Esq.
Tadmor & Tadmor, LLP
Trupti Patel, Esq.
Vakili Karimi, Esq.
Mortgage
Accurate Mortgage
Mortgage Partners
Shrenik K. Shah
Printing/Phototgraphy
Ratan Singhvi
Printing and Graphics Services
Timeless Lens Photography
Realtors
Ananth Ram
Asha Shukhla
Dilip & Sara Varghese
Laroia Realty
Raminder Bhatia
SmartMoves
WestOfBoston
Swati Mukherji
Vimi Verma
Restaurants
Bollywood Grill
Mysore Veggie
Services
Alankar
B. D. Nayak, Architect
epuja
Minuteman Group
Moksha Spa
Shalini's Salon & Spa
Shopping
Bashas Rugs
India Palace
Kay Pee Jewelers
Raj Jewelers
Travels
Madan Travel
Lokvani Talks To Asha Shukla

(This article is sponsored by Attorney Trupti Patel)
This is definitely a good time to invest or purchase a property. Consider your portfolio, get yourself qualified through a bank depending on what you would like to purchase (ie., condo, vacation home, investment property) and consult an agent regarding the best deals in the area market - Asha Shukla, Realtor, Prudential Prime Properties. [more]
Meet Muthu Velayuthum

(This article is sponsored by Attorney Rachel C. Tadmor)
Asoka Fellow Muthu Velayuthum is a brilliant social entrepreneur who has created community-owned and managed enterprises with 4200 members and a turn over of Rs. 300 million. Learn about his fascinating story! [more]
Bollywood Baatein

(This article is sponsored by Monique Kornfeld, Esq.)
The Khans: Shahrukh and Salman may act in a film together. When is Shilpa getting married? Anupam Kher to launch acting school in Australia. [more]
IAGB's Republic Day Celebrations Attracts Large Crowds

(This article is sponsored by Maharishi Academy of Total Knowledge)
The Republic Day event held at Lexington High School on Jan. 26 was the first event held under the presidency of Rita Shah. The event was colorful and attracted over 2000 people. [more]
South Asian Art - In Memory Of Prashant H. Fadia

(This article is sponsored by Prashant H. Fadia Foundation)
Ellora represents the epitome of Indian rock-cut architecture. The 34 "caves" - actually structures excavated out of the vertical face of the Charanandri hills - comprised of Buddhist, Hindu and Jain cave temples and monasteries, were built between the 5th century and 10th century. [more]
MIT Natya Presents Dancing Nature's Art

Come and enjoy MIT Natya's presentation of Dancing Nature's Art, an Indian classical dance representation of the science of DNA, on Feb. 18th at 5 pm. [more]
Hindu American Foundation Awareness Campaign Lunch

Be part of HAF's Free Awareness and Education Campaign Fundraiser in Boston, MA on Sunday, February 24 at 12 pm. [more]
TAGB Celebrates Sankranti

With more than 600 Boston-area Telugu community members in attendance, the Telugu Association of Greater Boston (TAGB) celebrated the Sankranti festival on Saturday, January 26th in Littleton, MA and elected the new committee with Surya Jayanthi as President. [more]
Pakistan: The Untold Story Of Entrepreneurship And Technology

OPEN (the Organization of Pakistani Entrepreneurs in North America) and distinguished MIT faculty showcase the entrepreneurial spirit and talent in Pakistan. [more]
IAFPE Elects New Governing Body

Satya Mitra is the new President of IAFPE while State Senators Jehlen and Marzilli discuss the role of state government in setting the rules and their views on the $1B life science initiative. [more]
TiE Boston - 2008 VC Oulook

Even though 2007 was one of the best years, first-time entrepreneurship in the Boston area appears to be on the decline! Find out what is hot for 2008! [more]
Kashmiri Language And Literature

Lalit Koul, a poet and activist, will talk about Kashmiri language and literature at Harvard University on February 9, 2008. [more]
Arangetram - Lexington Resident Sheetal Laad Captivates Audience

Sheetal kept the audience in rapt attention for three hours with graceful and rhythmic patterns of fast movements from different dance styles including Bharatanatyam, Manipuri, Kathak, to light, pulsating and fast folk dances. [more]
His Holiness Maharishi Mahesh Yogi "is Welcomed With Open Arms Into Heaven"

"Maharishi's work is complete. He has done what he set out to do in 1957 - to lay the foundation for a peaceful world." [more]
Ashoka Fellows And The Ashoka Support Network

Writing a column on Social Entrepreneurship would be incomplete without writing about Ashoka - a Washington based non profit started by Bill Drayton in 1980 that virtually coined the term "Social Entrepreneur". [more]
The Power Of Peace

People Need Peace, as much as they need food and shelter. Some have been searching desperately for peace, for a long time. It's missing in the lives of many. [more]
Basketball Without Borders - NBA Hold Its First Event In India

Top young players (ages 19 and under) from across Asia will come together in New Delhi to take part in basketball instruction and competition. They will also participate in motivational and life-skills seminars that promote education, leadership, character development and healthy living. [more]
Weekend Entertainment

Catch up, register and purchase tickets for the events during this upcoming fortnight including Art of Living Course, Hindustani Music day, Dancing Nature's Art dance performance and Hindu American Foundation Awareness Campaign Lunch. [more]
For The Mathematically Inclined

Congratulations to Sitaram Chandawarkar, Mukund Seshadri and Amisha Sisodiya, who were the winners of the last set of puzzles. Here is one easy puzzle for kids and one for adults. [more]
Music Review - Jodaa Akbar

(This article is sponsored by Sounds Of India)
Ashutosh Gowarikar and maestro A.R. Rehman come together for the first major musical offering of 2008. [more]
Leherein - Food For Thought

Craving for good home made food? Try this food for charity. [more]
Recipes -Valentine Day Special

Food for Love! [more]
Book Review - A Golden Age - Tahmima Anam

Told through the eyes of the young widow Rehana Haque, A Golden Age recounts the events leading up to and including the Bangladesh War of Independence from East Pakistan in 1971. It is the story of Rehana's struggle to preserve alive herself and her children. [more]
Jokes - Valentine Special

Q. What did one pickle say to the other?
A. "You mean a great dill to me." . [more]
Photo Of The Fortnight

Tower of Ravens. [more]
Thought For The Day

(This article is sponsored by epuja)
Maharishi Mahesh Yogi, the spiritual leader that introduced the Beatles and along with them, the West, to transcendental meditation, passed away Tuesday at his home in the Dutch town of Vlodrop. He was 91. Here are some of his quotes. [more]
Copyright © 2008 Lokvani.com. All Rights Reserved.
Lokvani Poll

Who will you vote for in the 2008 elections?


Click here for more events