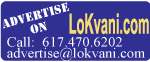 Sponsors
Dental/Medical
Billerica Medical
Flawless Dental
Education
Baby Hindustani
Chinmaya Mission
CRY America
Learnquest
MATH MASTER, K-12 Tutoring Center
Maharishi Academy of Total Knowledge
Peabody Essex Museum
Entertainment
Sounds of India
Finance
Darshana Patel, CPA
Dinesh Tanna
Leader Bank/Mortgage
Nila Rakhit
Platinum Insurance
Pradeep K. Audho
Satya Mitra, EA, ATA, CFP
Lawyers
Monique Kornfeld, Esq.
Neil K. Sherring, Esq.
Richard Costa, Esq.
Shivani Shah, Esq.
Tadmor & Tadmor, LLP
Trupti Patel, Esq.
Vakili Karimi, Esq.
Mortgage
Accurate Mortgage
Mortgage Partners
Shrenik K. Shah
Printing/Phototgraphy
Collagist
Ratan Singhvi
Printing and Graphics Services
Timeless Lens Photography
Video By Roland
Realtors
Ananth Ram
Asha Shukhla
Dilip & Sara Varghese
Laroia Realty
SmartMoves
WestOfBoston
Swati Mukherji
Vimi Verma
Restaurants
Bollywood Grill
Mysore Veggie
Services
Alankar
B. D. Nayak, Architect
Darshan Thakkar
epuja
Minuteman Group
Moksha Spa
Shopping
Bashas Rugs
India Palace
Kay Pee Jewelers
Raj Jewelers
Travels
Madan Travel
Lokvani Talks To Rita Shah

(This article is sponsored by Attorney Trupti Patel)
Rita Shah, longtime supporter of Saheli and IAGB takes over as President of IAGB. She shares her thoughts about its future plans and the upcoming Republic Day Celebrations. [more]
In Conversation With Subodh Mathur

(This article is sponsored by Attorney Rachel C. Tadmor)
"The Dadi Nani book taps into collective memories of 25 individuals from all across India to pay a tribute to Indian grandmothers," says Dr. Subodh Mathur, who is the co-editor of a book titled "Dadi Nani: Memories of Our Grandmothers." He talked to Lokvani about this innovative project that has struck an emotional chord in many Indian hearts around the world. [more]
Bollywood Baatein

(This article is sponsored by Monique Kornfeld, Esq.)
Do you know who the lady is with Sanjay Dutt? What's the next role for Ayesha Takia? What is Aamir Khan up to these days? And we have a few memorable clips of Madhuri's dances. [more]
Asian American Commission Announces Major Grant

(This article is sponsored by Maharishi Academy of Total Knowledge)
The Asian American Commission announced that it has received a $25,000 grant from the Boston Foundation on January 15th at the State House. Neelam Wali, Chair; Kumu Gupta, Advisory Board and Ramesh Advani, Commissioner were also present. [more]
South Asian Art - In Memory Of Prashant H. Fadia

(This article is sponsored by Prashant H. Fadia Foundation)
The Ajanta Ellora caves in Aurangabad, India are a unique specimen of work where extremely skilled artists worked collaboratively with not just their peers but continued the unfinished work of those that went before them. A project that seems to have been a work in progress for nearly 800 years it lies as a testament to the timelessness of art. [more]
Sri Lakshmi Temple Offers Scholarship For Excellence

The Sri Lakshmi Temple has instituted seven scholarships for graduating high school seniors. Winner of the Hindustani classical music contest on Feb. 17 and the Nrithyanjali classical dance contest on Feb. 23 will win a $1000 scholarship. [more]
Bighelp Pongal/Republic Day Celebrations

Bighelp Pongal/Republic Day Celebrations were celebrated on January 12, 2008. This 5th annual fund raiser for the Bighelp organization was attended by over 550 people. [more]
SABA Congratulates Attorneys Sunila Thomas-George And Navjeet Bal

Sunila Thomas-George and Navjeet K. Bal were recently appointed as Commissioner of the Massachusetts Commission Against Discrimination ("MCAD") and Commissioner of Revenue for the Commonwealth of Massachusetts' Department of Revenue, respectively. [more]
A New England Fan Helps A Musical Legend

Mubarak Begum, a legend of yesteryears was living in dire straits when her ardent fan Siraj Khan connected with her for the first time in 2007. He was moved by her plight and decided to help. His email appeal caught the attention of the film world in India and her life has taken a new course since. [more]
USPS - Issuance Of A Stamp Of India

Here is how you can help in in issuance of a stamp of India. [more]
Volunteer In India Through AIF

The American India Foundation is currently accepting applications for its 2008-2009 Service Corps Fellowship. The Fellows will serve with Indian NGOs from September 2008 to June 2009. [more]
The Ancient Vedic Science Of Consciousness And Unified Field Theory With Dr. John Hagelin

Dr. John Hagelin talks about the development of human creativity through the direct experience of Nature's infinite creativity within our own transcendental consciousness. [more]
Early Intervention Providers Bridge Cultural Gaps

Two parents discuss the merits of the Early Intervention program, as a culturally sensitive and supportive environment for young families. [more]
Random Thoughts On Health And Dietary Concepts In India

"The concepts of what is healthy, especially with regard to diet and lifestyle, are so messed up that it is impossible to have a lucid or logical conversation with even the most educated people on these subjects!" - Dr. Jyoti Ramakrishna. [more]
The Opportunity At The Bottom Of The Pyramid - An Introduction

By focusing on the social and cultural needs of the lowest layers of the income pyramid, socially driven organizations have shown that there is indeed a 'Fortune at the Bottom of the Pyramid'. [more]
Looking Back On The 'New Year'

Did you know that New Year's Day was first observed about 4,000 years ago? Back then, the Babylonians celebrated New Year's at the beginning of spring with festivities that lasted up to eleven days. Test your knowledge with this New Year's trivia. [more]
Poem - Naya Saal Mubarak

Hawa Mein Ek Khamoshi Hai
Mousam Mein Ek Behoshi Hai
31 Dec Ki Shaam Ka Hai Aisa Aalam
Suraj Mein Bhi Nahi Garmjoshi Hai... [more]
Weekend Entertainment

Catch up, register and purchase tickets for the events during this upcoming fortnight including IAGB Republic Day Celebrations, VPS Yoga Retreat, Pongal Vizha and Art of Living Course. [more]
For The Mathematically Inclined

Congratulations to all the mathematically inclined who participated in 2007. This year there will be a surprise gift for one who correctly answers the most number of questions. Here we go. [more]
Music - Remembering OP Nayyar

(This article is sponsored by Sounds Of India)
It was January 28th last year, when Bollywood lost one of its great personalities, who was both colorful and controversial, leaving behind only his timeless music for us to cherish. Siraj Khan remembers him through a musical journey of his life. [more]
Recipes - Spiced Up

Spiced up with pasta and a curry with a difference. [more]
Classified - Indian Market Promises To Be Huge

For the first time, NuSkin offers a patented microchip in a hand held lightweight device that makes available a technology hitherto available only in expensive salons. This 'wrinkle iron' can reduce the effects of aging by 10 years in 10 minutes. [more]
Photo Of The Fortnight

The right answer to last week's quiz was given by Srinivasan Sankar. It was 'Inverness Castle' in Scotland. Can you guess this temple on top of a hill ? [more]
Thought For The Day

(This article is sponsored by epuja)
On the occasion of Martin Luther King's Day here are some of his quotes. [more]
Copyright © 2007 Lokvani.com. All Rights Reserved.
Lokvani Poll

Who will you vote for in the 2008 elections?


lick here for more events