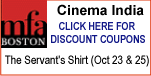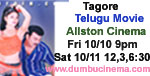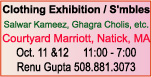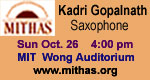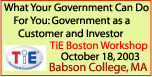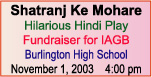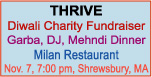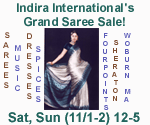 Lokvani Talks To Theater Enthusiast And Director Mohan Dali


Mohan Dali reminisces about directing Rajesh Khanna and Raj Kapoor, about his friendship with Dev Anand and talks about the Indian theater scene in Boston.

more...
Lokvani Talks To Attorney Neil Sherring


"Our strength is our community" says Attorney Sherring, Managing Partner of Dakoyannis, Curtin and Sherring.

more...
Technology - (Sponsored by The Boston Group)
New Drug Discovery Strategies And Chemical Genomics


Chemical Genomics uncover the roles that proteins play in disease through the rapid discovery of small molecule ligands against thousands of targets without the need for functional or structural information.

more...
Dine And Dance With TV's Super-Stars, Eesha And Vishu Of Kkusum


Don't miss this chance to dance with TV's stars Eesha and Vishu of Kkusum at the Milan Restaurant on Sunday, October 12.

more...
Lokvani Sponsors A Free College Admission Workshop


Attention High School Seniors and Juniors! Come and meet the Director of admissions of Tufts University at the Lokvani sponsored College workshop on Sunday October 19 at 2PM at the Nelson Auditorium, Anderson Hall, Tufts University in Medford, MA.

more...
Community Round-Up/ Special Shout-Outs To Family And Friends


Use Lokvani to send a shout out to friends and family on Birthdays, Anniversaries, Graduations... truth be told, you don't even need a special occasion to greet that special someone, do you?

more...
S'mbles - Designer Outfits On Sale!


Wondering what to wear to the snazzy Diwali party you are invited to? Looking for an ethnic Diwali gift? Head out to the S'mbles sale on October 11 and 12!

more...
TiE Boston Hosts A Workshop On What Your Government Can Do For You: Government As A Customer And Investor


You need capital to start or grow your business. How do you leverage government grant funding or contracts to your company's advantage? Learn successful tactics and strategies for business growth using government funding.

more...
Aalok Offers Reiki For Relief From Stress
Stressed? Ailing? Fatigued? Visit Aalok at the Lexington Center today for Reiki therapy with Reiki master Amrita Dhar. more...
BASIC 2003


On September 20, 2003, Asian students from 12 Universities gathered together at Harvard University to hold the Boston Asian Students Intercollegiate Conference (BASIC).

more...
Amol Mhatre, Local Hero To Star In ABC Sitcom


Don't miss Amol Mhatre in the October 15 episode of the Boston based ABC sitcom, 'It's all Relative'.

more...
For The Mathematically Inclined


Congratulations to P. Jain, L. Padmanabhan, A. Sangoram, A. Shah and B. Venkataraman, who were all winners of the last puzzle. In this issue we bring you yet another challenge, one for children and one for adults.

more...
Film Review - Oops!


Oops, the debut of actor turned director Deepak Tijori, is watchable only because it treads some bold, uncharted territories in Indian Cinema.

more...
Music Review - (Sponsored by Sounds of India)
'newbOrn' By No One's Kind


A quick caveat is needed: this CD is NOT for those with heart problems, pregnant women or for those who are into elevator music. This stuff is emotionally charged, loud and raw.

more...
Separate Journeys - A Collection Of Short Stories


Written by a varied set of outstanding women writers from India, its underlying theme is of the faceless, mute and unsung heroism of ordinary women. A good read.

more...
Recipes - (Sponsored by Milan Restaurant )
Kosher Indian Recipes


Cochini Jewish food is heavily influenced by south Indian traditions while Bene Israeli is by Western Hindu traditions. Tara Deshpande serves up some Kosher Indian Recipes.

more...
Natyanjali


MIT Natya club's presentation of three classical dance styles was a celebration of human form, spirit and creativity.

more...
An Enchanting Recital


World renowned Ravi Shankar and his daughter Anoushka's performance at Symphony hall can only be described as magical.

more...
Investing in India's Future: Premji's Model Educational Initiative


To paraphrase Mr. Premji, "An educated mother will ensure that her children are educated."

more...
Vedanta Society Of Providence RI Turns 75


A two-day Platinum Jubilee celebration was organized to mark 75th anniversary of the Society's spiritual work.

more...
Jokes At Random
Patient: Doctor, I think I need glasses.
Teller: You certainly do! This is a bank. more...
Leaf Peep: New England Fall Foliage Guide


Crimson, orange, red, yellow - Vibrant colors in the New England landscape offer a breathtaking backdrop. So head out for a scenic drive this weekend and the next.

more...
Thought For The Day


Some quotes by Mahakavi Kalidasa on Autumn.

more...
Click here for more events