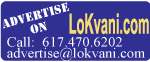 Click here for more events
Our Voice And Yours


Happy Fourth of July to all our readers. Some trivia facts about Independence day..... [more]
Lokvani Talks To Siva Kumar, Chef And Co-Founder, Walnut Grille

(This section is sponsored by Attorney Trupti Patel)

If you are craving a fresh, flavorful vegan and vegetarian experience then you must head to the Walnut Grille in Newton, MA. Chef and co-owner Siva Kumar has taken the definition of an 'experience' seriously." I want my customers to feel they are going to experience something unique when they come in and so the ambiance along with the food was important to this effort, he says. [more]
In Conversation With Shalini Khanna, Director NAB Center For Blind Women

(This section is sponsored by Emerson Hospital)

"Blind girls in India require a lot of support for education and employment with help of technology and assistance. Readers in America could sensitize their Indian friends in India to employ more visually impaired bright youth and start diversity in their work places" - Shalini Khanna, NAB India during her recent visit to Boston. [more]
Bollywood Baatein

(This section is sponsored by Monique Kornfeld, Esq.)

Deepika Padukone has been voted the sexiest woman in the world in a poll conducted by the fashion magazine. [more]
Hema Malini - Evergreen Superstar

(This section is sponsored by Masala Art)

Hema Malini, the evergreen Bollywood star or rather super star proved to the Boston area that age indeed has not withered her star power. The Hema Malini magic shone brightly at the Hanover Theater in Worcester, MA where hundreds watched Hema Malini light up the stage with her magnetic personality as Durga. [more]
Words On Water - Insightful Discussions On Today's India

(This section is sponsored by Kanan Sachdeva)

Words on Water sponsored by the South Asian Arts Council and Teamworks held an insightful discussion by two leading authors Rana Dasgupta and Ravi Venkatesan about the state of India today. [more]
Women Of Influence: Jeyanthi Ghatraju


Building large dance teams in New England to create grand productions for supporting charitable causes has been very close to Jeyanthi Ghatraju's heart. A software engineer by profession, a dance teacher and the mother of an outstanding musician, Jeyanthi shares some key insights. She also describes the new spectacular production - Sivagamiyin Shabadam that is being staged on July 27 to support Vision Aid. [more]
Carnatic Violin Arangetram: Sahana Srinivasan


Sahana's performance was effortless, her bow strokes were smooth yet crisp, and her nimble fingers hit every note with accuracy and precision. Over the years, I have watched Sahana grow both as a person and as a musician and could not be more proud of this accomplishment. [more]
Delightful Violin Concert Supports Ekal Vidyalaya


Anishka and Neha (students of Tara Ananda) held a Violin concert and raised $1540 to support Ekal Vidyalaya Foundation. This will help about 150 Ekal students get education for a whole year. The event was a very moving experience (anubhava) and Goddess Saraswati was doubly served on that day – with wonderful music as well as support for the cause of education. [more]
An Evening Of Enchanting Music By The Mangalat Sisters, Amritha And Anjana


It was an impressive performance and it was beautiful to see these two accomplished and talented young women perform with the poise, grace and confidence of well-seasoned artists. [more]
Shishu Bharati Holds 26th Annual Graduation Ceremony


The Shishu Bharati School of Indian Languages and Culture held its 26th annual graduation ceremony on June 22 in Lexington, MA, featuring Sipra Shah and Harish Hande. [more]
NE Youth Raise Over $22,000 For AIF LAMP Program


From June 1 – 21, the American India Foundation (AIF) held its first-ever New England Crowdfunding Challenge. During this three-week crowdfunding campaign, 41 high school students, college students, and young professionals raised $22,641 for AIF's Learning and Migration Program (LAMP) through personalized online fundraising pages, dramatically surpassing the original goal of $6,000. Arya Anand, Diya Anand, students of IYG, Worcester and Shrunothra Ambati were the top fundraisers. [more]
Art Show At The Academy Creative Arts


Art is an open and free mind at work. Art is another world on a canvas. One of Lexington's most talented artists thinks this way: Dr. Java Joshi. She has shared this love for art directly with her students, and it was clearly demonstrated at the art show, held at the Academy of Creative Arts. [more]
Understand The World From The Eyes Of A Woman


"Understand the world from the eyes of a woman," said Ayesha Khatun to an audience of over 60 people at MIT on June 25, 2014. Ayesha Khatun is the founder of Mohammed Bazaar Backward Classes Development Society. The event was hosted by Association for India's Development (MIT & Boston chapters). [more]
VPS 12th Annual Cricket Tournament


On June 22nd, the Vrindavana Preservation Society (VPS), a non-profit Indian organization based in Quincy, MA, concluded its 12th Annual Cricket Tournament. The family-friendly event was a roaring success, with over a thousand people in attendance. [more]
HAF Distributes $5K In Grants To Bhutanese American Hindu Community


Hindu American Foundation donates $500 to the Bhutanese Community of New Hampshire for use towards the week-long Purana event to uphold the community's religion and values, and bring peace of mind to community members. [more]
Grand Opening Of Elegance By Divya And Roshani


Fabulous Indian Designer Clothing store "Elegance' opening in Burlington, MA! [more]
2014 Prajna Summer Camp


The JET New England Chapter is happy to announce its thematic 2014 Prajna Summer Camp from 7/21 (Monday) - 7/25 (Friday). The theme for the camp is Secrets of Sri Ramayanam by Valmiki. [more]
Akshaya Patra USA Launches Elite Youth Program


Akshaya Patra USA announced on Friday, May 30, 2014 the launch of Youth Ambassadors, an elite voluntary youth program for high school students in the US. [more]
Grand Inaugural Of Chinmaya Saraswati Ashram In Orange, CT


The grand inaugural of the Chinmaya Saraswati Ashram at 393 Derby Avenue, Orange, CT will take place from Thursday, July 3rd to Sunday, July 6th, 2014. The expansive Ashram building (formerly a seminary) has been recently renovated and is surrounded by 5 acres of beautiful woodlands. [more]
Poem: Swami Vivekananda


The one who achieved
inner peace and happiness
The one who became
Swami Vivekananda
[more]
SABA GB Wins Outstanding Chapter Award From SABA North America


The South Asian Bar Association of Greater Boston (SABA GB) is proud to receive the South Asian Bar Association of North America's Outstanding Chapter Award. [more]
Internships For Teenagers At The Museum Of Fine Arts


The Teen Arts Council (TAC) is a leadership development program using the apprenticeship model for a group of teenagers that serves to connect the MFA with Greater Boston's teens, families, and communities. In paid positions, the TAC members are introduced to a wide range of museum professions and learning opportunities while also gaining valuable work experience. [more]
Planning For Your Child With Special Needs


One of the most challenging issues facing parents of a child with special needs is planning for their child's future without them. Financial planning for families with a child with special needs often requires the development of a plan that honors the future needs of their loved one. [more]
College Planning For Rising Juniors


As a freshman in high school, you were excited to be at a new school with new responsibilities, teachers, classes and sports. As a sophomore, you grew, studied hard and enhanced your skills in athletics, community service and classwork. Now you are a junior! [more]
Pratham 2014 Readathon Challenge


Pratham USA's Executive Chairman is offering to contribute up to $5,000 to the 2014 Readathon campaign. Exactly how much he gives depends on you! [more]
Everything You Need To Know About The MA State Budget


From 2001 to 2015, the MA state budget has increased from $32.2B to $39.6B. However, within that the budget for Health Care has increased from $9.9B to $17.3B, which accounts for almost of the the increase in the overall budget, Besides that, most major categories of expenditures have been relatively flat. [more]
Weekend Entertainment


Catch up, register and purchase tickets for the upcoming events and concerts including Remembering M.S. Subbulakshmi. [more]
For The Mathematically Inclined


Congratulations to Kishore Balsara, Abhimanyu Bhargava and Aseem Chandawarkar, who were the winners of the last set of puzzles. Here are two puzzles for one and all! [more]
Cartoon: You Selfie Sh!


Selfie sh! [more]
Music Review: Top Ten Bollywood Songs Of The Week!

(This section is sponsored by Sounds Of India)

Here are the latest tracks of the week. New movies: Ek Villain, Humshakals, and Humpty Sharma Ki Dhulani top the charts! Yes, "Baby Doll" is still on this list… is it on yours? Check it out! [more]
Laugh A While


The mother was furious. "Paul!" – she yelled. "Why are you making such awful faces at your bulldog?"
"Well, Mom, he started it!" [more]
Recipes - July 4th


Grilling. A fourth of July Independence Day special! [more]
Picture Of The Fortnight


The glories of Rajasthan [more]
Thought For The Day


"Dreaming, after all, is a form of planning." – Gloria Steinem. [more]
Classified: Live-in/Live-out Nanny Required


Experienced Live-in/Live-out Nanny required for Newborn Baby & Mother Care in Worcester, MA. [more]
Copyright © 2014 Lokvani.com. All Rights Reserved.
Sponsors
Harvard Pilgrim Health Care (HPHC)
Education
Akshaya Patra
America India Foundation
Apna Books
ATFS Learning Center
Celestial Minds
Chinmaya Mission
Deshpande Foundation
CRY America
Hindu Temple of New Hampshire
Learnquest
MATH MASTER, K-12 Tutoring Center
Peabody Essex Museum
Pratham USA
SAT Preparation for Ivy Colleges
ShineIn Math Academy
Sri Dwarkamai
Sri Lakshmi Temple
Sree Vijaya Durga Temple
Entertainment
Boston Bhangra
Somen and Lopa
Sounds of India
Finance
Darshana Patel, CPA
ijaraloans.com
Kanan Sachdeva
My Tax Linx
Sangita Joshi
Sanjay Thakkar
Shah, Dixit & Associates
Subash Agarwal
Lawyers
Monique Kornfeld, Esq.
Neil K. Sherring, Esq.
Richard Costa, Esq.
Shivani Shah, Esq.
Trupti Patel, Esq.
Realtors/Mortgage
Ananth Ram
Sumathi Narayanan
Printing/Photography
Ratan Singhvi
Printing and Graphics Services
Timeless Lens Photography
Restaurants
Bollywood Grill
Hit Wicket
Masala Art
Rangoli Grill
Services
Alankar
Anju Pathak
B. D. Nayak, Architect
Emerson Hospital
IMANE
Minuteman Group
S4 Inc.
Shalini's Salon & Spa
Srilatha Kodali, M.D.
TiE Boston
Shopping
Hakoba Sarees
Kay Pee Jewelers - Burlington
Raj Jewelers
Shaadi Baazar