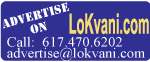 Sponsors
Dental/Medical
Billerica Medical
Flawless Dental
Education
Baby Hindustani
Chinmaya Mission
CRY America
Learnquest
MATH MASTER, K-12 Tutoring Center
Maharishi Academy of Total Knowledge
Peabody Essex Museum
Entertainment
Sounds of India
Finance
Darshana Patel, CPA
Dinesh Tanna
Leader Bank/Mortgage
Nila Rakhit
Platinum Insurance
Pradeep K. Audho
Satya Mitra, EA, ATA, CFP
Sangita Joshi
Lawyers
Monique Kornfeld, Esq.
Neil K. Sherring, Esq.
Richard Costa, Esq.
Shivani Shah, Esq.
Tadmor & Tadmor, LLP
Trupti Patel, Esq.
Vakili Karimi, Esq.
Mortgage
Accurate Mortgage
Mortgage Partners
Shrenik K. Shah
Printing/Phototgraphy
Ratan Singhvi
Printing and Graphics Services
Timeless Lens Photography
Realtors
Ananth Ram
Asha Shukhla
Dilip & Sara Varghese
Laroia Realty
Raminder Bhatia
SmartMoves
WestOfBoston
Swati Mukherji
Vimi Verma
Restaurants
Bollywood Grill
Mysore Veggie
Services
Alankar
B. D. Nayak, Architect
epuja
Minuteman Group
Moksha Spa
Shalini's Salon & Spa
Shopping
Bashas Rugs
India Palace
Kay Pee Jewelers
Raj Jewelers
Travels
Madan Travel
Lokvani Talks To Raminder Bhatia

(This article is sponsored by Attorney Trupti Patel)
"His professionalism and hard work has made him one of the top producers of our office in just two short years"says Vincent Deluc, Broker Owner of Prudential Suburban Realtors that awarded the śHonor Society śaward to Raminder Bhatia who spoke to Lokvani about the real estate market and his other interests. [more]
In Conversation: SRK's Om Shanti Om Bodyguard

(This article is sponsored by Attorney Rachel C. Tadmor)
As Farah Khan's 'Om Shanti Om' released on DVD, complete with a 16-page booklet that gives an insight into the cast and crew of the movie, I caught up with one of the stars of the film: Simon Hewitt. Simon who? Shah Rukh Khan's bodyguard. That's who. [more]
Bollywood Baatein

(This article is sponsored by Monique Kornfeld, Esq.)
It is out that Kareena and Saif are planning to wed soon. Is it just a rumor or truth? Read the full story and much more. [more]
Akshaya Patra Fundraiser - In Odissi Style

(This article is sponsored by Maharishi Academy of Total Knowledge)
Upasana under the direction of Mouli Pal, presented the choreographic works of the legendary Kelucharan Mohapatra at Merrimack College. The event was a fundraiser for Akshaya Patra, an organization dedicated to providing midday meals for millions of children in India. [more]
South Asian Art - In Memory Of Prashant H. Fadia

(This article is sponsored by Prashant H. Fadia Foundation)
Luxury For Export: Artistic Exchange Between India And Portugal Around 1600.
The fusion of artistic styles and decorative motifs that energizes art made for export can also obscure its origins and lead to erroneous attributions. For example, objects made with mother-of-pearl from the northwest Indian state of Gujarat are still sometimes regarded as German. [more]
Indian Music Festival In Boston

Click to listen. LearnQuest Academy of Music presents its third Music Conference featuring the very best of Indian Classical Music, both in Hindustani and Carnatic styles from April 9-13. [more]
Aniruddha Knight & Ensemble

Grandson of the world-famous dancer T. Balasaraswati, Aniruddha Knight presents a fresh interpretation of Bhraratanatyam at Peabody Essex Museum on April 5th, 2008. [more]
World Music Presents Asha Bhosle

World Music presents Asha Bhosle performing 75 Years of Asha with special guest Amit Kumar on Sunday, April 13, 8 pm at Symphony Hall, Boston. [more]
Lecture: Education And Its Role In Unfolding Total Brain Potentia

Everyone is invited to a lecture, "Education and its Role in Unfolding Total Brain Potential" with Dr. Ashley Deans and Jane Deans on Sunday, April 6 at 1:30 PM at the Maharishi Vedic Health Center, Lancaster, MA. [more]
The Center For Indic Studies At UMass Hosts Ambassador Neelam Deo

"Nano Could Change the Paradigm of Production" Neelam Deo, the Consul General of India tells the Business and Entrepreneurship Students at UMass Dartmouth. [more]
Sindhi Language And Literature

"Sindhi has 52 consonants, belongs to the family of Sanskritic and Prakrit languages and is spoken by about 20 million people," said Niranjan Dudani, MD and Prakash Parwani at the recent presentation on Sindhi Language and Literature at Harvard University. [more]
IANH Organized A Cultural Fete In Aid Of Charity

The India Association of New Hampshire organized a grand variety fete to raise funds for their public service activities on Saturday, March 8, 2008 in Merrimack, NH. [more]
Boston Real Estate Market Through 2016

TIE-Boston presents, Boston Real Estate Market: Present and Future Outlook Through 2016 on April 8th in Waltham, MA. [more]
IITSINE Annual Social Event

Come and be part of the IITSINE Annual Social Event on April 5th in Lexington, MA. Everyone is welcome! [more]
IAFPE 2008 Summer Political Internship Program

Since 1994, IAFPE-New England has sponsored nearly 100 college students for its Summer Political Internship Program. Apply now for the 2008 program! [more]
India Society Of Worcester April Fun

The Indian Youth Group of Worcester's annual cultural show (and fundraiser) will host performers and dancers from all over Massachusetts. [more]
Photo Essay Of Atrium Alive At The Peabody Essex Musuem

On March 14, 15 and 16, the Peabody Essex Museum again welcomed the colorful sights and sounds of Holi, India's annual spring festival, with an array of exciting programs. Atrium Alive: India featured artist demonstrations, music performances, film screenings and hands-on art activities for the entire family. [more]
Hearts Suspended, A Documentary Film About H4 Dependent Spouses

Meghna Damani, film-maker, Shivali Shah, immigration attorney, and Urjasi Rudra of the Heller School of Social Policy and Management were panelists on April 1, 2008 at Brandeis University at an event called America's Ambivalent Open Arms. Saheli Members participated. [more]
14th Annual Tulsi Ramayana Parayana

The time for singing the sweetness of Manasa has arrived with the annual Sri Ramacharitamanasa Parayana in the Sri Lakshmi Temple on April 12 and 13. [more]
Kumu Gupta Elected To Quincy Republican Committee

Kumu Gupta was unanimously elected as the Vice Chair of the Quincy Republican Committee and Chair of her Ward Committee. [more]
SELCO India - Bringing Light To The Rural Poor

For many rural customers, SELCO's solar solutions don't just provide basic creature comforts at home but are key to additional income opportunities. [more]
Weekend Entertainment

Catch up, register and purchase tickets for the events during this upcoming fortnight including Ranjani Shettar Exhibition, IITSINE Annual Social, Sikkil Gurucharan Concert, LearnQuest Music Conference, Showcase India 2008, 75 Years of Asha and Art of Living Course. [more]
For The Mathematically Inclined

Congratulations to Hari Pillai, who was the winner of the last set of puzzles. Here is one easy puzzle for students and one for adults. [more]
Music Review - RACE

(This article is sponsored by Sounds Of India)
Pritam Chakraborty teams up with Sameer and Taz and Abbas-Mustan in the glitzy and slick thriller Race starring Saif Ali Khan, Akshaye Khanna, Anil Kapoor, Bipasha Basu and Katrina Kaif. [more]
Book Review: Shooting Water: A Memoir

Journeying back into the overwhelming feeling of displacement that Devyani Saltzman speaks about throughout the book, a short-lived romance with a handsome crew member, only compounds the issues at hand and her life back at the university suffers. [more]
Recipes - April Joy

Indian Cooking made Jhat Pat - easy microwave [more]
Laugh A While!

Indian Roads! OH NO! [more]
Photo Of The Fortnight

This is the place to be! [more]
Thought For The Day

(This article is sponsored by epuja)
The community as a whole doesn't listen patiently to critics who adopt alternative viewpoints. Although the great lesson of history is that knowledge develops through the conflict of viewpoints - Walter Gilbert. [more]
Copyright © 2008 Lokvani.com. All Rights Reserved.
Lokvani Poll

Who will you vote for in the 2008 elections?


Click here for more events