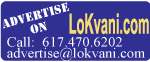 Sponsors
Dental/Medical
Billerica Medical
Flawless Dental
Education
Baby Hindustani
Chinmaya Mission
CRY America
Learnquest
MATH MASTER, K-12 Tutoring Center
Maharishi Academy of Total Knowledge
Peabody Essex Museum
Entertainment
Sounds of India
Finance
Darshana Patel, CPA
Dinesh Tanna
Leader Bank/Mortgage
Nila Rakhit
Platinum Insurance
Pradeep K. Audho
Satya Mitra, EA, ATA, CFP
Lawyers
Monique Kornfeld, Esq.
Neil K. Sherring, Esq.
Richard Costa, Esq.
Shivani Shah, Esq.
Tadmor & Tadmor, LLP
Trupti Patel, Esq.
Vakili Karimi, Esq.
Mortgage
Accurate Mortgage
Mortgage Partners
Shrenik K. Shah
Printing/Phototgraphy
Collagist
Ratan Singhvi
Printing and Graphics Services
Timeless Lens Photography
Video By Roland
Realtors
Ananth Ram
Asha Shukhla
Dilip & Sara Varghese
Laroia Realty
SmartMoves
WestOfBoston
Swati Mukherji
Vimi Verma
Restaurants
Bollywood Grill
Mysore Veggie
Services
Alankar
B. D. Nayak, Architect
Darshan Thakkar
epuja
Minuteman Group
Moksha Spa
Shopping
Bashas Rugs
India Palace
Kay Pee Jewelers
Raj Jewelers
Travels
Madan Travel
Lokvani Talks To...in The Year 2007 - Part 1

(This article is sponsored by Attorney Trupti Patel)
The year that was... New England's vibrant community featured in our online pages... [more]
In Conversation With ... In The Year 2007 - Part 1

(This article is sponsored by Attorney Rachel C. Tadmor)
In the year 2007 we have featured a diverse set of interesting personalities in our segment "In conversation with" including actress Lara Dutta, Dr. Sachin. B.Patel, real estate agent Delxi Fernandez, Bharatanatyam Maestro Geeta Chandran, State Treasurer Tim Cahill and Pandit Torvi. [more]
Bollywood Baatein

(This article is sponsored by Monique Kornfeld, Esq.)
Director Shyam Benegal now wants to make a big budget film on the life of Gautam Buddha. Can you guess who the director wants to play the lead? [more]
South Asian Art - In Memory Of Prashant H. Fadia

(This article is sponsored by Prashant H. Fadia Foundation)
In 2007 Lokvani started a new tradition to bring articles related to Indian art and architecture. From ancient temples to contemporary Indian art India's contribution to art is unquestionable. Here is PART I of the collection [more]
Laasya Fest Performs Margam

'Laasya Fest', the first annual show of Smt. Sapna Krishnan's dance school, Laasya School of Dance, Shrewsbury was held on December 8, 2007 at the Notre Dame Church in Worcester, MA. The theme of the show was 'Margam' (The Path). [more]
Dance In New England

Indian dance be it Classical, Folk or Bollywood, has a strong presence in New England as it evidenced by some of the wonderful dance events during 2007. [more]
Not The Same Old Desi New Years

"This is one of a kind New Year's Eve celebration, certainly for our community in the New England area. And Rhode Island's gorgeous Narragansett Bay offers us the perfect opportunity to do something special and memorable." [more]
Community Achievements 2007 - Part 1

From business to spirituality, let's take a look at what our community has achieved and provided to the society. [more]
IANH Public Service Activities - 2007

Since inception, The India Association of New Hampshire is committed to serving the community to help create a better tomorrow through their various public service programs. [more]
A New Year's Resolution: Create World Peace Through Vedic Defense

As we make our New Year's resolutions, is "create world peace" a realistic goal? Achieving world peace seems a daunting task, yet a simple solution lies within India's ancient Vedic heritage. [more]
Student Service-Learning Program With Pratham In Mumbai

Faculty and students from Phillips Academy and the Udayachal School in Mumbai studied child labor injustices while interacting with students and staff at a Pratham shelter located on the fourth floor of the Old Masjid building in the heart of Crawford Market, Mumbai [more]
Poem: Slow Dance

A poem written by a teenager with cancer. [more]
Weekend Entertainment

Catch up, register and purchase tickets for the events during this upcoming fortnight including Sarva Dev Mandir New Year Eve's Party, IARI Cruise Party, Art of Living Course and I Leadership Choosing to Lead workshop.. [more]
For The Mathematically Inclined

Congratulations to Amisha Sisodiya, who was the winner of the last set of puzzles. Here is one easy puzzle for kids and one for adults. [more]
Musically Yours - Part I

(This article is sponsored by Sounds Of India)
From Saalam - E- Ishq to Aaja Nachale 2007 has given us a few numbers to remember.. [more]
Books Of 2007

Catch up with your holiday reading [more]
Recipes -The Best Of XYZ

A delicious recipe for XYZ Cocktail, with light rum, triple sec and lemon juice [more]
Photo Of The Fortnight

A photo slideshow [more]
Thought For The Day

(This article is sponsored by epuja)
Be always at war with your vices, at peace with your neighbors, and let each new year find you a better man. ~Benjamin Franklin [more]
Copyright © 2007 Lokvani.com. All Rights Reserved.
Click here for more events