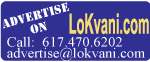 Sponsors
Dental/Medical
Billerica Medical
Flawless Dental
Education
Akshaya Patra
Chinmaya Mission
CRY America
Learnquest
MATH MASTER, K-12 Tutoring Center
Maharishi Academy of Total Knowledge
Peabody Essex Museum
Shishu Bharati
Entertainment
Sounds of India
Finance
Darshana Patel, CPA
Dinesh Tanna
Leader Bank/Mortgage
Nila Rakhit
Platinum Insurance
Pradeep K. Audho
Satya Mitra, EA, ATA, CFP
Sangita Joshi
Lawyers
Monique Kornfeld, Esq.
Neil K. Sherring, Esq.
Richard Costa, Esq.
Shivani Shah, Esq.
Tadmor & Tadmor, LLP
Trupti Patel, Esq.
Vakili Karimi, Esq.
Mortgage
Accurate Mortgage
Mortgage Partners
Shrenik K. Shah
Printing/Phototgraphy
Ratan Singhvi
Printing and Graphics Services
Timeless Lens Photography
Realtors
Ananth Ram
Asha Shukhla
Laroia Realty
Raminder Bhatia
SmartMoves
WestOfBoston
Swati Mukherji
Restaurants
Bollywood Grill
Mysore Veggie
Services
Alankar
B. D. Nayak, Architect
epuja
Minuteman Group
Moksha Spa
Shalini's Salon & Spa
Shopping
India Palace
Kay Pee Jewelers
Raj Jewelers
Travels
Madan Travel
Lokvani Talks To Niru Bhatia

(This article is sponsored by Attorney Trupti Patel)
Platinum Insurance opens a second branch in Burlington. Niru Bhatia spoke to Lokvani about the new branch and the latest insurance changes in MA.[more]
In Conversation With Ashok Rao, Film Producer

(This article is sponsored by Attorney Rachel C. Tadmor)
'Before the Rains' a Merchant Ivory presentation starring Nandita Das, Rahul Bose and Linus Roache opens in theaters in Boston on May 16th. A visually stunning film directed by famed director Santosh Sivan. Ashok Rao, President, TiE Houston and the film's Executive producer talks to Lokvani. [more]
Bollywood Baatein

(This article is sponsored by Monique Kornfeld, Esq.)
Kajol is holding up pre-production work on Karan Johar's next flick. Do you know which one? Aamir Khan talks about certain Shahrukh in his blog. [more]
Haasya Kavi-Sammelan

(This article is sponsored by Maharishi Academy of Total Knowledge)
Congratulations to Ragini Seth and the India Society of Worcester for bringing a refreshing one of a kind entertainment on April 26th with poem recitals of three well-known Hindi poets of India. For three hours, the India Center in Shrewsbury thundered with non-stop laughter and applause. [more]
South Asian Art - In Memory Of Prashant H. Fadia

(This article is sponsored by Prashant H. Fadia Foundation)
Hampi And Vijayanagar
In 1986, Hampi was included in the UNESCO list of World Heritage sites. An international team of archaeologists has been working on the site since 1981. But a lot still remains to be done. [more]
International Dance Day 2008

Janani Giri Swamy, Mari Shakthi Muthuswamy, Jeyanthi Ghatraju and Neena Gulati share their love for dance while Monica and Amy, senior disciples of Guru Neena play to the enthusiastic audience as part of the International Dance Day 2008. [more]
Carnatic Music By The Carnatica Brothers

K.N. Shashikiran and P. Ganesh, accompanied by Suhas Rao and Mahalingam Santhanakrishnan to perform on Friday May 23, 6:00 pm in Westwood, MA. Later on May 31st, Atma Vidya Ashram holds it first fundraiser! [more]
Dazzling Dancers And Desi Dhamaka Win!

The New England Malayalee Association held a dance competition on May 3, 2008. Over 16 teams competed for the top spot in the junior and senior category. The Mangalat Sisters and Chidambaram Nrityakala Academy came in second place. [more]
Brown Badmaash Performance Show A Huge Success!

Brown Badmaash, Brown University's only nationally competitive South Asian dance troupe, hosted its annual performance show on April 27th. Over 400 audience members, many of them from the Providence and Boston areas, packed into Salomon Hall on the University's main green for a night of acting, singing, dancing, and lots of fun. [more]
Craig Newmark, Alan Rosling And Bob Compton To Headline At TiECON East

Keynote speakers include Craig Newmark of Craigslist, Alan Rosling, Tata Sons and Bob Compton, documentary film maker. For the first time, a media and entertainment panel on India debuts at the Conference on May 29-30 at the Westin, Waltham. [more]
IAFPE Honors Six 2008 Student Interns

Sireesha Kalapala, Ambika Melville, Shuchi Mitra, Anshul Parulkar, Kabeer Parwani and Rohan Vahalia were selected for the IAFPE internship. Honorable Timothy Murray, Lt. Governor, MA was the chief guest for the evening. [more]
AAC Hosts Unity Dinner

The Massachusetts Asian American Commission (AAC) held its 2nd Annual Gala Unity Dinner on May 10, 2008 with more than 250 guests in attendance. The Master of Ceremonies for the event was Sorboni Banerjee, 7NEWS General Assignment Reporter. [more]
Divine Knowledge Of Vedas And Vedic Scriptures - III

As part of the enlightening series of discourses on Divine Knowledge of Vedas and Vedic Scriptures organized by Neelu Sharma at the Sarva Dev Mandir in Oxford, MA, Siddeshvari Devi Ji discussed Devotion and the Significance of Bhajans and Keertans. [more]
Hindu Heritage Day 2008

The Annual Hindu Heritage Day will be held on Saturday, May 24, 2008, from 3 pm to 8 pm at Marlboro Middle School in Marlboro, MA. [more]
Shishu Bharati Open House

Wish your kids knew more about Indian culture? Wish they spoke/understand their grandparents better? Enroll them in Shishu Bharati! [more]
Saheli Holds Computer Classes

Fifteen women came eagerly to the workshop organized by Saheli and the South Asian Women's Collaborative (SAWC) of Harvard University. [more]
New High School: Visitors' Day At Maharishi Academy

Maharishi Academy of Total Knowledge - High School for Leadership in Antrim, New Hampshire will have its first open Visitors' Day on Saturday, May 31st, 2008. All are welcome, and advanced registration is required. The morning meeting starts at 9:30 am. [more]
Ruchir Shah Named 2008 Presidential Scholar

U.S. Secretary of Education Margaret Spellings recently announced the selection of Ruchir F. Shah, of Harrington, R.I., who attends Barrington High School in Barrington, as a 2008 Presidential Scholar. [more]
Arangetram: Shweta And Shruti Kumar

Over the last 7 years, learning Bharat Natyam has taught us what is required to be a good dancer besides hard work and dedication - Passion. From our view, there is no way someone can prepare for an Arangetram without loving the form of art. [more]
Mann Deshi Mahila Bank And Its Business School On Wheels For Rural Women

Created by Chetna Gala Sinha, an economist, farmer and activist in the drought-prone Mann Desh region of Maharashtra, its goal is to help empower the women in the area and to enable them to achieve financial independence and self sufficiency. [more]
Shraddhaa 2007- An Awakening Of The Mind

The youth camp Shradhaa 2008 will be held from June 22 to June 28 at Arsha Vidya Gurukulam in Pennsylvania, where Samskrita Bharati has a very unique way of conducting the camp - it is all in Samskritam, from day one. [more]
Simplify Your Life: Organize Your Tax Records

Did you spend hours pulling together your tax records in preparation for filing your 2007 tax return? It doesn't have to be that way. Avoid the problem next year by taking a few simple steps now. [more]
Weekend Entertainment

Catch up, register and purchase tickets for the events during this upcoming fortnight including T.N. Krishna Concert, Carnatic Music by the Carnatica Brothers, TiECON East 2008, Ramayana - A Visual Journey, Atma Vidya Ashram Fundraiser, Art of Living Course and Ranjani Shettar Exhibition. [more]
For The Mathematically Inclined

Congratulations to Aseem Chandawarkar, Prabhakar Nadkarni, Dayton Nandy, Ranganath Nayak, Muneeba Syed and Niharika Yerneni, who were winners of the last set of puzzles. Here is one easy puzzle for students and one for adults. [more]
Music Review - Bhoothnath

(This article is sponsored by Sounds Of India)
After the wonderful children's song from Taare Zameen Par, we have yet another children's special in Bhoothnath. One of the surprises here is the vocal rendition by Juhi Chawla. [more]
Film - Before The Rains

Starring Nandita Das and Rahul Roy, Before The Rains opens in select theatres in Boston on May 16th. An award winning film by famed director Santosh Sivan. [more]
Cartoon - Mother's Day

It was a hectic day! The kids and the grandkids just left... [more]
Recipes - Bread , Indian Style

Bread recipes - Indian style. [more]
Laugh A While

Even in marriage the pen is mightier than love.......... [more]
Picture Of The Fortnight

Shot through the lens from a dungeon hole at St. Andrews, Scotland. [more]
Thought For The Day

(This article is sponsored by epuja)
A thought on Friendships! [more]
Copyright © 2008 Lokvani.com. All Rights Reserved.
Lokvani Poll

Who will you vote for in the 2008 elections?


Click here for more events