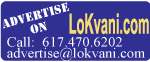 Sponsors
Dental/Medical
Billerica Medical
Flawless Dental
Education
Baby Hindustani
Chinmaya Mission
CRY
Learnquest
MATH MASTER, K-12 Tutoring Center
Maharishi Academy of Total Knowledge
Peabody Essex Museum
Entertainment
Sounds of India
Finance
Darshana Patel, CPA
Dinesh Tanna
Leader Bank/Mortgage
Nila Rakhit
Platinum Insurance
Pradeep K. Audho
Satya Mitra, EA, ATA, CFP
Lawyers
Monique Kornfeld, Esq.
Neil K. Sherring, Esq.
Richard Costa, Esq.
Shivani Shah, Esq.
Tadmor & Tadmor, LLP
Trupti Patel, Esq.
Vakili Karimi, Esq.
Mortgage
Accurate Mortgage
Mortgage Partners
Shrenik K. Shah
Printing/Phototgraphy
Collagist
Ratan Singhvi
Printing and Graphics Services
Timeless Lens Photography
Video By Roland
Realtors
Ananth Ram
Asha Shukhla
Dilip & Sara Varghese
Laroia Realty
SmartMoves
WestOfBoston
Swati Mukherji
Vimi Verma
Restaurants
Bollywood Grill
Mysore Veggie
Services
Alankar
B. D. Nayak, Architect
Darshan Thakkar
epuja
Minuteman Group
Moksha Spa
Shopping
Bashas Rugs
India Palace
Kay Pee Jewelers
Raj Jewelers
Travels
Madan Travel
Our Voice And Yours

As December rolls in and we shop for gifts for our near and dear ones, let us not forget to donate to the causes that are dear to our heart. Based on the feedback from our readers, the emagazine is now organized in sections consisting of. Lead Articles, Performing Arts, Local Happenenings, People and Lifestyle!. [more]
Lokvani Talks To Ishwar And Neelu Sharma

(This article is sponsored by Attorney Trupti Patel)
Founders of the Sarva Dev Mandir Dr. Ishwar Shama and his wife Neelu spoke to Lokvani about the history of the temple and their vision for its future. Early immigrants to the Worcester area, the Sharmas talked about their life and their long history with community service. [more]
In Conversation With Pashington Obeng

(This article is sponsored by Attorney Rachel C. Tadmor)
In 1998, Pashinton Obeng, a Professor who teaches Africana studies at Wellesley and at Harvard traveled to India to spend time in a monastery at the Syrian Orthodox Church in Cochin, Kerala. [more]
Bollywood Baatein

(This article is sponsored by Monique Kornfeld, Esq.)
Have you missed any good movies released in 2007? Here is a list of few along with their trailers. You can still catch up this holiday season and don't forget to share them through comments section. [more]
Neha Multani Crowned Miss India New York 2007

(This article is sponsored by Maharishi Academy of Total Knowledge)
Neha Multani of Queens, New York, was crowned Maaza Miss India New York 2007, after beating 11 other contestants from New York State in a colorful beauty pageant that was held at the Community Center Auditorium in Flushing, Queens, NY. [more]
South Asian Art History - In Memory Of Prashant H. Fadia

(This article is sponsored by Prashant H. Fadia Foundation)
Maharishi Vedic Architecture Growing Popular in New England and Around the World
It uses ancient design principles of orientation, placement, proportions and natural materials to create buildings that bring health, happiness and good fortune. [more]
Neelam - Poetry In Motion

Under the sponsorship of Jothi Raghavan, Anita Ratnam presented Neelam- Drowning in Bliss on Sunday November 11, 2007 at the Sorenson Theater at Babson College. [more]
Devi Mahima - A Review

Devi Mahima, a thematic group performance highlighting the divine female energy was presented by the students of Smt. Ranjani Saigal and Smt. Kausalya Srinivasan (Chennai, India) on Nov. 2 at the Sri Lakshmi temple. Senior students Amudha Pazhanisamy, Amrita Saigal and Kavitha Vijeyasekar were impressive. [more]
Svara Yantra - An Inspired Presentation

The Boston Philharmonic received 4 curtain calls when it presented - Svara Yantra, a composition by Shirish Korde. Kerwani and Misra Pilu by Joanna Kurkowicz, tabla solo by Samir Chatterjee intertwined with a fabulous western score made magic at Jordan Hall. [more]
Rahul Sharma And Zakir Hussain Enthrall!

A harmonious blend of creative strengths of two great instrumentalists from India ruled the World Music/Crash Arts concert offering on Friday, November 16 at Sanders Theatre in Cambridge, MA. Rahul Sharma on Santoor and Zakir Hussain on tabla treated music lovers to an evening of Hindustani music. [more]
FORSE 2007: Forum For Social Entrepreneurs

On November 2nd, 2007, TiE BostonБ─≥s Social Entrepreneurship SIG (Special Interest Group) together with Boston University and the Deshpande Foundation hosted the first regional conference for social entrepreneurs. [more]
Chinmaya Mission Raises $850K And Celebrates Diwali 2007

With the help of the community, Chinmaya Mission Boston raised over $850,000 at its Annual Diwali Grand Banquet and celebrated diwali with a cultural program. [more]
Stand Up For Child Rights

10,000 children die every single day in India. More than in any tsunami, flood, earthquake, famine or war. Reports released in the past few months reveal that 46% of children in India are underweight, 38% stunted and 19% wasted... their fate decided even before they turn three. [more]
UIA Diwali - An Evening Of Music And Dance

United India Association under the leadership of President Archana Sharma celebrated Diwali with song and dance by talented artists in the New England area on Saturday, November 4, 2007 at the Newton South High School in Newton. [more]
Celebrating 25 Years Of Sharon Diwali

Indian Americans to the South of Boston held a grand cultural extravaganza to mark the 25th Anniversary of the Annual Sharon Diwali function. °Many children who participated in the first Sharon event now have children of their own,Б─² said President Monisha Prakash. [more]
NetSAP Annual Gala - A Classy Affair

An upscale, elegant night of entertainment, networking, fine dining and dance at the Omni Parker Hotel was a fitting gala to celebrate the accomplishments of NetSAP Boston Chapter which has grown leaps and bounds. Boston will be the host for the 2008 National NetSAP Conference. [more]
Karthika Masa Nitya Rudra Abhishekam

Please join your fellow devotees for Lord Siva Worship and Rudra Parayanam at the Sri Lakshmi Temple daily through December 9. This Vedic function is being conducted by Sri Venkateswara Sarma. [more]
Third Annual AACSA Convention

Asian American Convenience Stores Association invites you to their Third Annual Convention to be held on December 1, 2007 in Tampa, Florida. [more]
Satya Mitra Wins Keynote Speaker Contest At H.D. Vest National Conference

At the 21st H.D. Vest National Conference, Satya Mitra delivered the winning keynote address to an audience of 1,150 H.D. Vest Advisors as part of the first-ever Advisor Keynote Contest and received a one-year speaking contract with Financial Forum, Inc. and the opportunity to be published in a financial planning book. [more]
Be Smart In Donating Property To Charity

Here is when you should sell the property and donate the cash to charity or donate the stock before it is sold. [more]
Weekend Entertainment

Catch up, register and purchase tickets for the events during this upcoming fortnight including Ragas, Rhythms & Grooves, Bowties and Bangles, and Karthika Masa Nitya Rudra. [more]
For The Mathematically Inclined

Congratulations to Vijay Aivalli, Ryan Bhattacharyya, Shailesh Goregaokar, Ranganath Nayak, Amisha Sisodiya and Niharika Yemeni, who was the winner of the last set of puzzles. Here is one easy puzzle for kids and one for adults. [more]
Music Review: Khoya Khoya Chand

(This article is sponsored by Sounds Of India)
For those listeners who have a special place in their hearts for or grew up with the golden oldies, the music of this film might just provide a nostalgic walk down memory lane. [more]
Recipes - V Is For Vegetables

It is time for the veggies! [more]
Laugh A While

Boy Melon: Honey, dew you want to run away and get married?
Girl Melon: Sorry, I cantaloupe. [more]
Photo Of The Fortnight

Can you guess where this was taken? [more]
Thought For The Day

(This article is sponsored by epuja)
Laxmi Mittal quotes! [more]
Copyright © 2007 Lokvani.com. All Rights Reserved.
Click here for more events