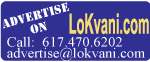 Sponsors
Dental/Medical
Billerica Medical
Flawless Dental
Education
Akshaya Patra
Chinmaya Mission
CRY America
Learnquest
MATH MASTER, K-12 Tutoring Center
Maharishi Academy of Total Knowledge
Peabody Essex Museum
Shishu Bharati
Entertainment
Sounds of India
Finance
Darshana Patel, CPA
Dinesh Tanna
Leader Bank/Mortgage
Nila Rakhit
Platinum Insurance
Pradeep K. Audho
Satya Mitra, EA, ATA, CFP
Sangita Joshi
Lawyers
Monique Kornfeld, Esq.
Neil K. Sherring, Esq.
Richard Costa, Esq.
Shivani Shah, Esq.
Tadmor & Tadmor, LLP
Trupti Patel, Esq.
Vakili Karimi, Esq.
Mortgage
Accurate Mortgage
Mortgage Partners
Shrenik K. Shah
Printing/Phototgraphy
Ratan Singhvi
Printing and Graphics Services
Timeless Lens Photography
Realtors
Ananth Ram
Asha Shukhla
Laroia Realty
Raminder Bhatia
SmartMoves
WestOfBoston
Swati Mukherji
Restaurants
Bollywood Grill
Mysore Veggie
Services
Alankar
B. D. Nayak, Architect
epuja
Minuteman Group
Moksha Spa
Shalini's Salon & Spa
Shopping
India Palace
Kay Pee Jewelers
Raj Jewelers
Travels
Madan Travel
Lokvani Talks To Vidula Sukhatme

(This article is sponsored by Attorney Trupti Patel)
They say the most powerful idea comes from a personal experience of hope, triumph, defeat or loss. For Vidula Sukhatme, Founder and CEO of GlobalCures, it was the loss of a close friend to breast cancer in 2007 that prompted her to explore the nature of existing cancer therapies. [more]
In Conversation With Ashok Misra

(This article is sponsored by Attorney Rachel C. Tadmor)
Dr. Ashok Misra, Director of IIT Bombay, was awarded the Distinguished Alumni Award from the University of Massachusetts at Amherst. IIT Bombay celebrates it's Golden Jubilee in the US with a grand event in New York on July 18 and 19. [more]
Bollywood Baatein

(This article is sponsored by Monique Kornfeld, Esq.)
Ash is going to Hollywood once again for a very special project. Are Saif and Kareena still a team? Find out! Also in this issue a tribute to Vijay Tendulakar. [more]
Zakir Hussain Takes Harvard By Storm

(This article is sponsored by Maharishi Academy of Total Knowledge)
Playing to a full house at Harvard University's Sanders Theatre, Hussain and his accompanying Masters of Indian Percussion dazzled the audience with their brilliant performance. [more]
Ramayana - A Visual Journey

Do not miss this unique live dance drama on "Ramayana" hosted by Vision Aid and presented by Ranjani Saigal and a talented team of artists on Saturday May 31st at 3 pm (sharp) in Lexington, MA. The story of the Ramayana will be danced using the works of Valmiki, Kamban, Tulasidas, Thiagaraja and others in seven Indian languages strung together using English narration. All funds go to Vision Aid which helps the underprivileged visually challenged people in India. [more]
SETU And NETSAP Present A Play 'Rape, Regret And Retribution

Subrato Das, of SETU and his entire cast and crew in partnership with NETSAP present "Rape, Regret and Retribution on May 29-31 at the Arlington Center for the Arts at 7.30 pm. [more]
Hindustani Vocal Concert By Abhishruti Bezbaruah

Abhishruti Bezbaruah, an artist of the "Banaras Gharana" and a disciple of Padma Bhushan Guru Pt. Rajan-Sajan Mishra, will present a Hindustani vocal recital in Cambridge, MA on June 15th. [more]
Celebrating Hindu Heritage

The Hindu Heritage Day celebrations held on May 24 attracted over a 1000 people. The mela included traditional outdoor activities including kite flying and a grand cultural program. [more]
Vedic Language And Literature

Dr. Susan Rosenfield talks about Vedic Language and Literature. The word 'Veda' meaning knowledge comes from the root 'vid', 'to know.' The word 'video' we use today is a cognate with this verbal root in the sense of 'to see' and therefore 'to know/' [more]
ICA Presents British Sculptor Anish Kapoor

Anish Kapoor is widely regarded as Britain's most accomplished sculptor working today. Summer 2008 Exhibition Will Be the his First Major Survey in the U.S. in Fifteen Years. [more]
Five Thousand People To Breathe Away Stress

As a part of Art of Living Foundation's "Violence-Free Stress-Free America" campaign, about 120 cities across the country will host Art of Living's Part 1 Course from June 6-10, 2008, with more than 5,000 Americans are expected to participate. In the Greater Boston area, the courses will be held at Boston College, Bolton/Boxboro, Hingham in MA and Nashua in NH. [more]
Self Leadership And The Anatomy Of Success

Lincoln A. Norton will talk about Self Leadership And The Anatomy Of Success in Boston, MA on June 5th. [more]
IANH Celebrates Spring Festival 2008

There was much to applaud in the performances offered at the Spring Festival celebrated by the India Association of New Hampshire on Saturday, May 17, 2008 at the Nashua High school North, Nashua, NH, with more than 500 people in attendance. [more]
Government And Politics - Making An Impact

Lisa Wong , Mayor of Fitchburg, First Deputy Treasurer Grace H. Lee and Alona Abalos from Blue Cross and Blue Shield gave an inspiring presentation on a career in public service at an event hosted by The Asian Women's Connection. [more]
Summer Beats 2008

Aap Ka Manoranjan presents Summer Beats 2008 with Atif Aslam, Kailash Kher with Rachna Sharma in 3 hours of non stop entertainment on June 15th. [more]
Youngest Graduate Nidhi Shah Excels

Nidhi Shah graduated at 19 from the Massachusetts College of Pharmacy as Radiological Science Graduate. She came 1st in her class of 2008 Radiation Therapists. [more]
Massachusett Art Winners - Kahani Magazine

Ethan Oliver and Nikita Minocha, both of Massachusetts, win 1st place in a national illustration contest sponsored by Kahani magazine. [more]
Governor's Youth Council

Boost your leadership and team-building skills. Shape your community. Be a voice in your government. Help Governor Deval Patrick with issues you care about. Deadline May 30th! [more]
Weekend Entertainment

Catch up, register and purchase tickets for the events during this upcoming fortnight including TiECON East 2008, Ramayana - A Visual Journey, Atma Vidya Ashram Fundraiser, Art of Living Courses, Summer Beat 2008, Abhishruti Bezbaruah, Chimnay Camp, Vivekananda Family Camp and Anish Kapoor Exhibition. [more]
For The Mathematically Inclined

Congratulations to Aseem Chandawarkar and Prabhakar Nadkarni, who were winners of the last set of puzzles. Here is one easy puzzle for students and one for adults. [more]
Music Review - Ada.. A Way Of Life

(This article is sponsored by Sounds Of India)
Not Rahman's best especially on the heels of Jodha-Akbar. Yet has a few nice tracks. [more]
Cartoon: Junk Mail

Forwarding emails with lots of junk information...
Makes my day go faster! [more]
Recipes - Unusual Pickle Recipes

Come Summer and so begins pickle time in India where mangoes are dried and pickled to last. Here are some unusual ingredients for pickles. [more]
Laugh A While!

Laughter is the best medicine. [more]
Picture Of The Fortnight

The onset of summer months - Poppies in the backyard. [more]
Thought For The Day

(This article is sponsored by epuja)
Mukesh Ambani on the future of India. [more]
Obituary - Sharda Kapoor

Sharda Kapoor, a resident of Newton, MA, survived by her daughter and son-in-law Drs. Chander and Onaly Kapasi, and others, recently passed away at the age of 88. [more]
Copyright © 2008 Lokvani.com. All Rights Reserved.
Lokvani Poll

Who will you vote for in the 2008 elections?


Click here for more events