Archives
Contribute

Press Release
04/29/2009



"VAISAKHI MELA 2009, BOSTON"
AN ANCHOR OF PUNJABI CULTURE IN BOSTON



More then 1000 community members from metropolitan Boston and surrounding states jam packed Brookline High School Auditorium, Brookline, MA to celebrate Vaisakhi Festival on Saturday, April 18th, 2009. The festivities kept on going strong from 7:00 pm till 11:00 pm. The program was webcast worldwide live on internet. Mr. Pramjit Singh Bhatti of Desi Market, Woburn, MA was the chief guest and also the grand sponsor of the event.

The program titled "VAISHAKI MELA 2009" is the flagship event of Bhatti Entertainment in the Boston area. It promotes talent amongst the next generation of the local community and show cases the punjabi performing arts, bhangra, songs, and music.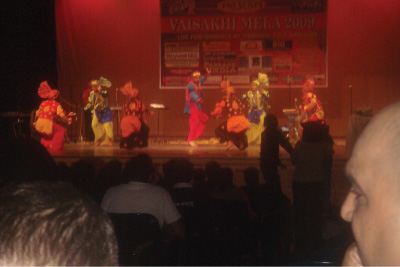 In this event live, Bhangra Dance was performed by TRUSKOOL FOLK BHANGRA of Boston, along with live Punjabi Songs.



The evening featured renowned singers including:

The immortal Surinder Shinda - Putt Jattan De, Bari Khol Ke, Punjabian Di Taur
Sukhwinder Panchi - Dil Batte Davee Bharra Shalee Mundia, Munda ho gaya shudai, Bhangra disco
Ranjit Teji - Chandigarh De Kudi, Aa Vatna Nu
Ishmeet Narula - Sa Re Ga Ma Pa Star!!

These singers came from Punjab, India to perform for us here in Brookline, MA.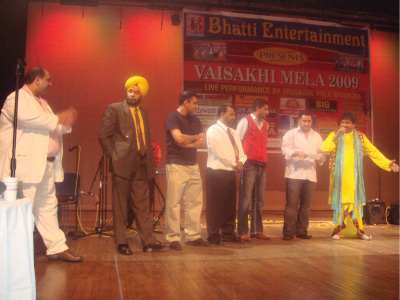 From right: Singer Mr. Surinder Shinda, Ranjit Teji, Laddi Bajwa, President of Bhatti Entertainment - Mr. Parmjit Singh Bhatti, Rohit Bhambi, Malkit Singh Gill and Jaspal Singh Pabla.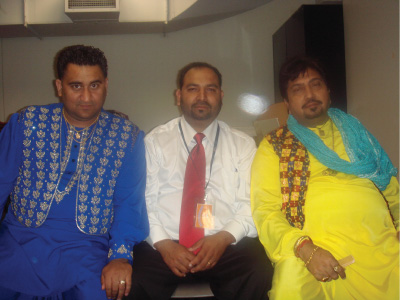 From left: Singer Ranjit Teji, Parmjit Singh Bhatti and Surinder Shinda.





Star Singer From Indian Best T.V Show Program
Sa Re Ga Ma Pa - Miss.Ishmeet Narula



VAISAKHI FESTIVAL marks the arrival of the harvesting season. This festival is in celebration to thank God for a good harvest for the year and coming year also. People of Punjab attired in their best clothes break into the Bhangra dance to express their joy.

The dancers and drummers challenge each other to continue the dance. The scenes of sowing, harvesting, winnowing and gathering of crops are expressed through zestful movements of the body to the accompaniment of ballads. Both men and women, celebrate the day with Bhangra and Gidda.

Kuldeep Singh and Khushwant Singh Gaddu, Vice President of Bhatti Entertainment - Boston, welcomed the audience. The program was emceed by Raju Kumar. Aman Sharma, Rohit Bhambi, Balwinder Singh Gill, D.J. Bunty, Harwinder Singh Dhillon, Vikram Singh, Harpreet Singh, Jaspal Singh Pabla, Malkeet Singh Gill, Gurmail Singh, Pawan, Sunny, Inderjeet Singh Dehal, Gurdeep Singh Pabla, Parmjit Singh Pabla, and many others volunteers helped make the program a success.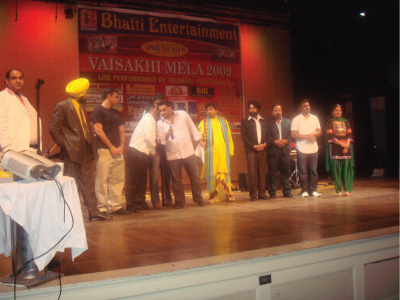 From Right: Ishmeet Naurala, Sukhwinder Panchi, Harpreet Singh, Jasbir Singh Judge, Surinder Shinda, Ranjit Teji, Parmjit Singh Bhatti, Rohit Bhambi, Malkeet Singh Gill and Jaspal Singh Pabla.



The program was sponsored by :
Grand Sponsor : Mr and Mrs Parmjit Singh Bhatti – Desi Market, Woburn, MA
Platinum Sponsors : Mr. Jasbir Singh Judge, Balwinder Singh Bhaura and Laddi Bajwa (New York)

Other Sponsors: The Kebab Factory Restaurant of Cambridge, MA,
Punjab Restaurant of Arlington, MA, Mr.Jaspal Singh Pabla, The Golden Dream Music Company of India, Mr. Channi Khamano,
Bollywood Grill Restaurant of Andover, Shrewsbury, Natick, MA,
Boynton Insurance Agency of Burlington, MA, Mr Dinesh Thanna
Gazal Indian Cuisine of Jamaica Plain, Mr. Sanjeev Kumar
Shivalik Foods and Spices of Somerville, MA
United Financial Services of Somerville, MA, Mr.Raju Kumar
Natick Indian Grocery of Natick,Ma Mr.Pawan and Bobby
Gurnaam Catering of New Hampshire, Mr.Vikram Singh

Media Sponsors:
The India New England News of Waltham. Mr. Lewis Quigley
The Sound Of India of Lexington, MA, Mr. Harish Dang
Sangeet Darpan Magazine of Punjab, India
Lokvani.com, Mr. Anil Saigal
Aapkamanoranjan.Com, Mr. Anil Malhotra





| Share your Comments


---
You may also access this article through our web-site http://www.lokvani.com/