Archives
Contribute
| | |
| --- | --- |
| Indians At The Republican Convention | |

Press Release
09/12/2008



About a hundred people of (Asian) Indian origin descended in the Minneapolis-Saint Paul area during the convention held from August 31 through September 4, 2008. There were several events organized by and for the Indian contingent. There were three major organizations catering to the Indians; namely, Indians for McCain headed by Kishan Putta of Washington, DC, Indo-Americans for McCain initiated by Dr. Devendra Verma of California and Indian American Republican Council (IARC) chaired by Dr. Vijaynagar of Florida and Co-Chaired by K.V. Kumar of Arizona.

Akhil Agrawal & Dr. Piyush C. Agrawal were invited to attend the convention as Special Invitees of the campaign on behalf of Senator & Mrs. McCain under "Friends & Family" program.

On the sidelines of the convention, there were meetings between the American Jewish Committee and the Indians and discussed about "Advancing the Indian-Jewish Relationship." Among the speakers were Ambassador Ronen Sen, Kishan Putta and Puneet Ahluwalia.

Behind the scene promoting interests of the Indian community were Mr. Gopal Khanna , Chief Information Officer of the State of Minnesota and Dr. Aseem Shukla & Mrs. Suhag Shukla of Hindu American Foundation and Mr. Anoop Prakash of Minnesota.

No convention is complete without the perennial participants like Dr. & Mrs. Shambhu Banik.

A grand reception was organized by the IARC on September 2nd for the delegates. Congressmen Joe Wilson and Adam Putnam were honored at this event for his unflinching support to causes dear to India and the Indian Americans.

The Indian Ambassador hosted a lunch in honor of the Indian delegates on Thursday. At the same time, there was a "by invitation only" lunch with Cindy McCain. Piyush & Devendra attended that lunch.

South Carolina delegation invited some of the Indian delegates to a lunch reception where Ambassador Sen was appropriately recognized. Congressman Joe Wilson praised the Indian community; thanks to Dino Teppara for his outstanding work with Congressman Wilson and with IARC.

Since Piyush was in the "Friends & Family" circle, he had several encounters with the Republican leadership and the family of Senator McCain & Governor Sarah Palin. One of the most interesting conversation that took place was between Palin's parents and Piyush in which they engaged in analyzing the speech of the Vice Presidential candidate Sarah Palin the next morning at the breakfast.




| Share your Comments


---
You may also access this article through our web-site http://www.lokvani.com/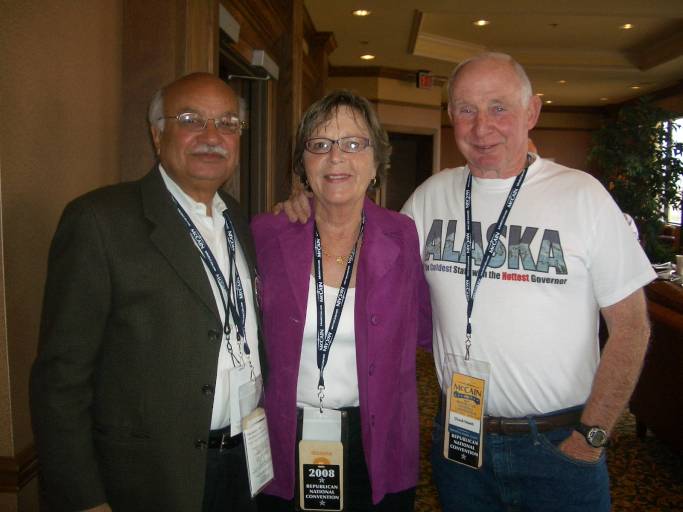 Dr. Piyush C. Agrawal with Mr. & Mrs. Chuck Heath - the parents of Vice Presidential candidate Sarah Palin